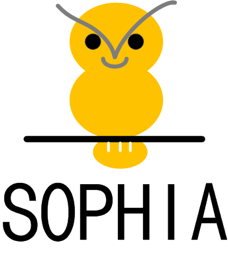 A social platform will be created in order to facilitate the communication and networking between expert- seniors who have retired and interested users in the o­ffered services. In order to increase the services availability, a mobile version of SOPHIA will be developed for smart phone users. Moreover, the data from both experts and end-users will be available for behavioural analysis. There will be a group of behavioural experts, including psychologists, who will have the duty to anonymously take and analyse the available data. According to end-users' needs and requirements, the platform will give them suggestions like what else they might wish to see or what other help could be suitable for them. As a result, behavioural design patterns can be brought in public showing which professions need more expertise from someone experienced, in which areas people need more information so that society can organise public seminars, possibly hiring senior adults to speak, etc.
Objectives:
The population that is growing old now is in good health, it has a strong social network, has much to off­er to society. The SOPHIA project will be the best opportunity for them to be included in the network of senior adults who are willing to offer their services in the future. The categories in which the senior adults can participate within the project, include:
1. Continue off­ering services as he/she used to;
2. Provision of limited services;
3. Online advice through the platform in a forum like application;
4. Seminars to people of his/her profession;
5. Tutoring young people or other experts in the beginning of their career.
Expected results and impact:
The end of the active working period of every individual is a crucial point from a psychological and sociological point of view. As such, the existence of ways and possibilities for a person to stay active is crucial, in order to maintain that person's physical and mental health. The platform SOPHIA follows the strategic objectives of the EU and contributes to prolong the active lives of seniors who have further possibilities to contribute to society. What seniors will find in SOPHIA varies from simple handy advice to career boosts. Since a vast variety of people can benefit from SOPHIA, a big socioeconomic benefit is expected.
Parnters:
Coordinator: GeoImaging Ltd
Duration: 30 months
Starting Date: 01 July 2014
Total budget: 1.000.420,00 €
Public contribution: 532.012,00 €
Contacts:
Dr Stratos Stylianidis
stratos@geoimaging.com.cy
Tel: +357-22447770
6 Georgios Seferis Street
1075 Nicosia
Cyprus
www.sophia-aal.eu