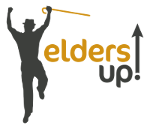 The project builds an ecosystem for collaboration between SME and seniors.The main innovation of the Elders-Up! system is that will monitor the end user state through its interaction with the collaborative Elders-Up! workspace in order to:
Adapt the interface and content of the workspace to the cognitive conditions of the user.
Engage and motivate the elderly in optimal collaboration in the work team.
Protect the elderly from fail into apathy and frailty after their retirement.
To fulfil its ambitious goals, the Elders-Up! project will provide four services:
Skills Matching Service: To match senior knowledge and SME needs.
Sensors and self-report data gathering: To gather information about the end user
Adaptation Decision-maker Service: Automatically decides and selects the best configuration for presenting the information to the elderly by using the Elders-Up! system.
Collaborative & adaptive workspace: A fully customisable workspace