The project consists in a software platform connecting seniors, carers and relatives by a computer, smartphone or tablet. The system will allow the management of visits, calls, and daily life activities. On top of that, it will remind seniors about things to do (i.e. take their pills, exercise, etc), allow the exchange of messages, documents, and give access to proxy services (transportation, shopping, etc). In addition, the platform will be linked to sensors and medical equipments (weight, blood pressure, etc.) alerting carers in case of problem.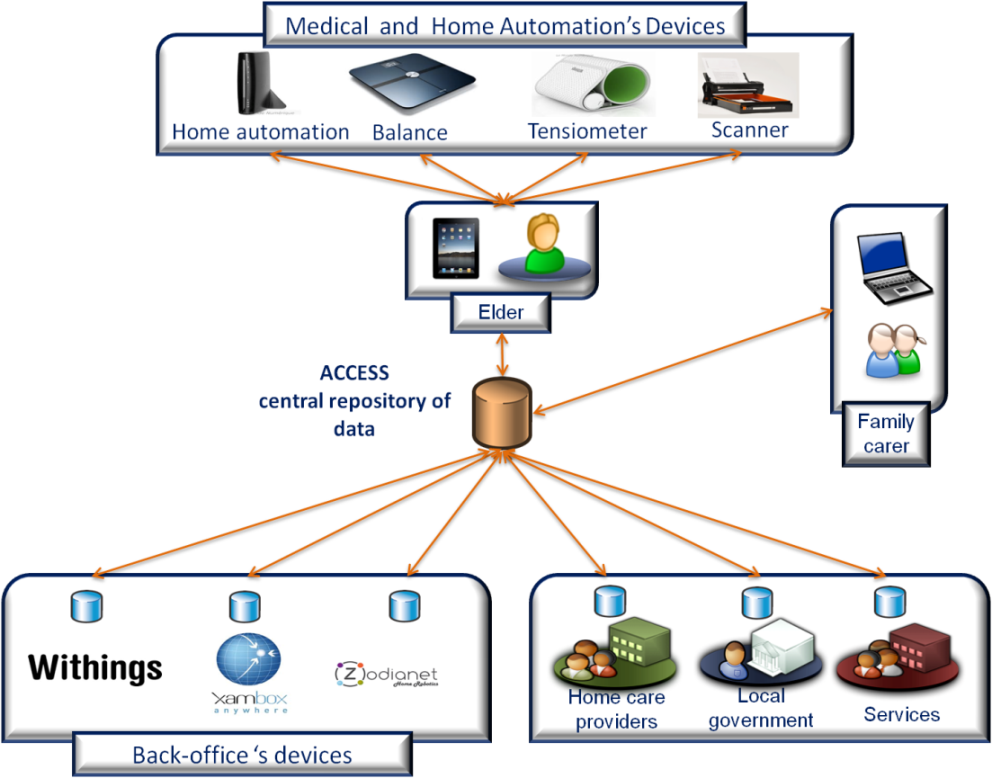 This system will provide the centralisation of users information and allow an easy and permanent sharing of information between stakeholders. New softwares to interface different supports (tablet, medical equipment, platform…) will be developed. The project will be developed in three countries: France, Italy and Belgium, each one in a specific way according to the demand and context, providing an adaptable panel of services. 200 elders and carers will be involved in the development and the experimentation of the solution.
Objectives:
Information about old people at home is not efficiently shared between seniors, relatives, home carers, nurses… The ACCESS project aims to develop an easy and permanent communication system in order to share data between elderly people and their stakeholders, through electronic devices. As a consequence, the intervention of each will be adapted to the evolution of the senior situation allowing more efficiency in the visits and a better coordination in the provision of services. Thus, the objective of the project consists in the standardisation of data exchanges in order to support the management of seniors' daily lives.
Expected results and impact:
The expected results consist in the development and the experimentation of a pilot able to support informal and professional homes, especially in the management of daily life activities. After modelling and validating the technical aspects at an industrial level, the pilot is expected to be commercialised in all European countries. Partnerships will be proposed to professional carers' organisations, senior associations, public health agencies, insurance companies, and different European networks will be involved in the identification of new partners all around Europe. The time to market is estimated at two years.
Parnters:
Coordinator: CEV – Groupe Chèque Déjeuner
Duration: 30 Months
Starting Date: 01 September 2013
Total budget: 3 792 383€
Public contribution: 1 938 736€
Contacts:
David Tizon
david.tizon@apologic.fr
www.apologic.fr
Tel: +33 (0) 6 80 2846 43
http://access-project.org/