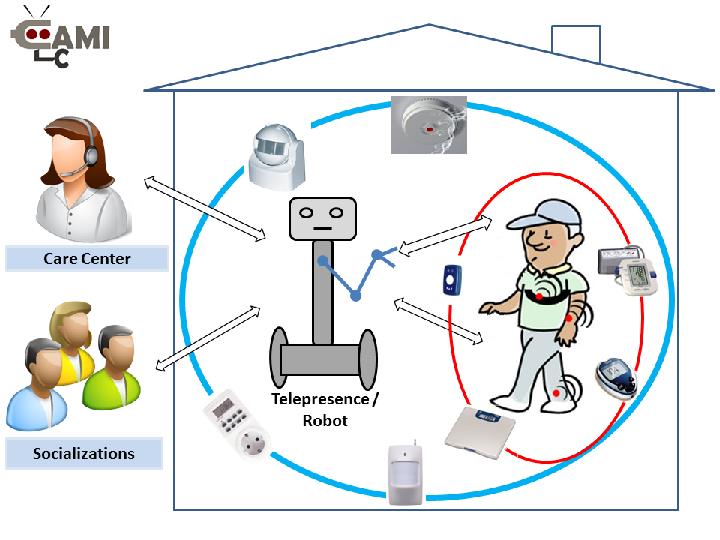 CAMI  is  offering  a  fully  integrated  AAL  solution  by   providing  services  for  health  management,  home management  and  well-being  (including  socialization, and  reduced  mobility support).  CAMI  builds  an  artificial intelligence ecosystem, which allows seamless integration of any number of ambient and wearable sensors with a  mobile  robotic  platform  endowed  with  multi-modal  interaction  (touch,  voice),  including  a tele-presence  robot. The  services  offered  by  CAMI  ecosystem  address  both healthy individuals as  well as those  with  age related  impairments. CAMI solution  will reconcile the increased demand  for  care  in  the  current  aging  society  with limited resources by supporting an  efficient and sustainable care  system.  This  will  allow  older  adults  to  self-manage  their  daily  life  and  prolong  their  involvement  in  the society while allowing their informal caregivers to continue working whilst caring for their loved ones.  The end-users from Denmark, Romania and Poland will be involved throughout all the phases of the project.
Objectives:
The CAMI project offers a fully integrated AAL solution at the overlap of tele-care and health, smart homes and robotics by offering services for social care, health care, home care and mobility. This solution consist of:
a viable solution for a next generation robotic framework that offers intelligent user-, context- and environment aware services with natural and comfortable interfaces for older adults;
a set of personalized practical services, ranging from well-being and comfort to social interaction, and to health care;
visible demonstrations of the CAMI system through extensively tested and validated pilot.
Expected results and impact:
CAMI will offer a Core System Component, offering different services to the user:
the capability of health, home and environment monitoring and management;
an intelligent, informed, friendly collaborator, taking orders, giving advice or reminders and ready to help, and get help, when needed;
a platform that offers a personalized, intelligent and dynamic program management also reporting and communication to health professionals;
tele-presence for communication (video, voice) with caregivers, family, friends through multi-modal interfaces.
Parnters:
Coordinator: University POLITEHNICA of Bucharest
Duration: 36 Months
Starting Date: 01 June 2015
Total budget: 3.582.949,28 €
Public contribution: 2.192.470,82 €
Contacts:
Adina Magda Florea
Email : adina.florea@cs.pub.ro
Phone 1: + 40-21 402 9179
Phone 2: + 40-740 040 173
Website under construction