Initial case finding among the primary target group (older adults) and their care givers. (WP1) with quantitative demand surveys among users, their network and the wider stakeholder tier, jointly with qualitative approaches such as co-creation sessions, discussion panels and scenario building. The development of the integrated product service system (WP2) involves the creation of new system architecture, improvements in the hardware and service components, data management and interpretation tools and methods and tailored interfaces. User involvement (WP3) to accompany the product and service development will take the form of iterative co-design sessions with stakeholders and real life testing with actual end-users.  Health and social care systems will be scrutinized in the different market contexts of the pilot sites and the business plans will be optimized accordingly, followed by the elaboration of the ENSAFE business model (WP4). Tailored management and dissemination activities throughout the project (WP5).
Objectives: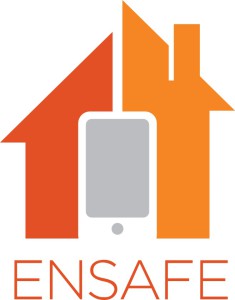 ENSAFE aims at supporting more effective prevention and self-care strategies by creating a smarter, more accessible and versatile link among the elderly person, their living environment and the support network around them by creating an elderly-oriented, network-based services aimed at fostering independent life. The service vision is built upon a layer of existing technologies, encompassing mobile communication, environmental sensing and clinical monitoring. Within the project the technologies will be further developed and integrated into a common framework which, in turn, will provide the basis for implementing innovative services.
Expected results and impact:
An integrated system composed of a set of networked devices including a smart phone with built-in sensors, wearable sensors and environment sensors. Due to the open and flexible system design new sensors can be added, allowing for a constant enlargement of the range of elderly users with specific needs and conditions. Pilot applications are set in four different pilot countries representing a wide spectrum of development levels, living and service standards. A business model will be developed to describe how the product service will create, deliver and capture the value of the innovation and will consider the market, economic, social, cultural and other contextual factors across Europe.
Parnters:
Coordinator: RZCC (Regionaal ZorgCommunicatie Centrum)
Duration: 36 months
Starting Date: 01 July 2015
Total budget: €2,147,100
Public contribution:
Contacts:
Anne Landstra (director RZCC)
Anne.landstra@rzcc.nl
Tel: +31 (40) 2393000
Boschdijk 769, 5626 AB EINDHOVEN (NL)
http://www.ensafe-aal.eu