A key concept of GoldUI is the development and maintenance of a cloud-based secure user profile, which is intended to be maintained by a trusted relative or carer. The profile indicates the user's language, eyesight, hearing, mobility and memory capabilities and communication preferences as well as account information for key services via a series of plugins. The key technological innovations that we want to introduce to enable the GoldUI project are related to 1) Representation of multimedia content description, 2) Personalisation and contextualisation of information, 3) Interactive search and agent interfaces able to mitigate complex tasks, bring expertise to the user, and provide more natural interaction; and 4) Human-Computer Interfaces. All these technologies will be employed in an integrating way; this means that, different prototypes will be available along all the phases of the project that will incrementally include the different features and technologies according to the end-users' specifications and feedback.
There will be pilot trials during 12 months.
Objectives: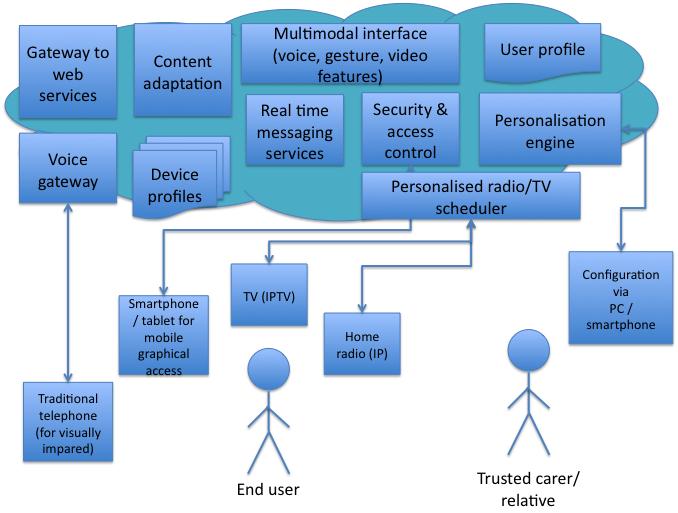 The concept of GoldUI is focused on empowering the older individual, enabling them to access online "self-serve" services and therefore benefit from the digital world by using the familiar home technologies of domestic radio, TV and telephone augmented by a mobile smartphone interface when away from home.
By using content adaptation and personalisation techniques, GoldUI will provide the elderly with access to a wide range of online services considering individual's abilities and needs.
Expected results and impact:
GoldUI impact is ensured through 1) Involvement of partners from Spain, UK and Italy, 2) Clustering with other projects and 3) Expected elderly potential market. The target market, 65-75 year-olds, is considered a potential market on a continuous basis.
12-18 months after the end of the project, there will be a commercial launch. During this time, the prototype system will be upgraded so that a "soft launch" will be feasible earlier to allow business partners to test the system.
Parnters:
GOLDUI
| ORGANISATION | TYPE | COUNTRY | WEBSITE |
| --- | --- | --- | --- |
| HI-Iberia Ingeniería y Proyectos S.L. | SME | Spain | http://www.hi-iberia.es/ |
| XIM Ltd | SME | United Kingdom | http://www.xim.co.uk/ |
| Tiscali Italia S.p.A. | Industrial | Italy | http://www.tiscali.it/ |
| Fundación para la eSalud (FeSalud) | End-User | Spain | http://www.fesalud.org/ |
Coordinator: HI-Iberia Ingeniería y Proyectos S.L.
Duration: 24 Months
Starting Date: 18 July 2011
Total budget: € 1.537.726,76
Public contribution: € 807.656
Contacts:
Inmaculada Luengo
iluengo@hi-iberia.es
Tel.: +34 91 458 51 19
C/ Bolivia, 5
28016 Madrid
SPAIN
http://www.goldui.eu