The light-, sound and scent modules equipped in a room are creating automated room ambiences based on motion data (motion sensors) and physiological measurements from caregivers and people with dementia (e.g. non-intrusive heart-rate monitoring). The system provides a learning cloud architecture that evaluates the mood (e.g. agitation or apathy) from PwD and provides caregivers with an App for intervention. Thereby the system learns and prepares PwD for activities and daily structure while caregivers have the ability to further influence situations positively via manual input. The findings of the project are contributing to the development of market-oriented AAL solutions that are feasible and easy to integrate into a home or care facility. In the project care facilities (at least 1 per country) and home settings (2 per country A, CH, IT) are testing and evaluating the system to reach market ready light, sound and scent modules that are easy to integrate with smart home technologies like Bluetooth, ZigBee and EnOcean.
Objectives:

Get Ready For Activity – persuasive ambiences is the modular application of ambient lighting, sound and scents research to create room ambiences for supporting people with dementia (PwD) and their caregivers in their daily activities and structure and positively influence erratic behaviour (depression and agitation) of PwD. The project aims to develop, implement and validate as well as get ready for the market an intelligent, modular, persuasive ambient system to prepare PwD for new or changing activities during the day and thereby assist the care recipients as well as the caregivers.
Expected results and impact:
Market ready modules (light, sound and scent) for creating automated room ambiences are planned to be ready two years from the end of the research project. The business plan involves a contractor for each country who helps to integrate the solution in care facilities and home settings and an affordable licence system for needed software. GREAT will support PwD to live at their own homes for a longer period of their disease. The system helps with agitation or apathy in the patients and thereby ease the burden of caregivers at home and in facilities and allows for individual configuration at reduced costs.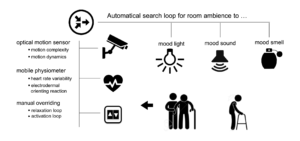 Parnters:
Coordinator: Vorarlberg University of Applied Sciences, Austria
Duration: 36 Months
Starting Date: 01 February 2017
Total budget: 3 mi €
Public contribution: 1.66 mi €
Contacts:
Patrick Jost,
patrick.jost@fhv.at
+43 5572 7927306
http://great.labs.fhv.at/