Bad life habits play a major role in the development and progression of age-related diseases: nutrition, medical therapies and physical exercise are among the keys for prevention and control. Regular checking of health parameters is often overlooked, due to boredom, complexity or lack of motivation. HELICOPTER aims at inferring with end-users' healthiness in an unobtrusive and simple way, through monitoring of daily life behaviours and will support end-users and their caregivers with feedback, advice, and motivation. The system will gather data coming from a heterogeneous set of (mostly off-the-shelf) devices, including medical, environmental and wearable sensors, to provide a qualitative and quantitative assessment of the activities carried out. This would make the health monitoring routine much less boring and demanding, possibly leading to reduce the need of frequent checking of clinical parameters and enable several services, fostering user's awareness and motivation and providing the caregiver with insights, alarms and reports.
Objectives:
The HELICOPTER proposal aims at exploiting ambient-assisted living techniques to provide older adults and their informal caregivers with support, motivation and guidance in pursuing a healthy and safe lifestyle. The proposal is targeted at 65+ adults, not suffering from major chronic diseases or severe disabilities, yet possibly being affected by (or being at risk of) metabolic or circulatory malfunctioning (e.g., hypertension, mild diabetes) or by mild cognitive deficits. Behavioural analysis is exploited to make health monitoring more effective and less invasive.
Expected results and impact: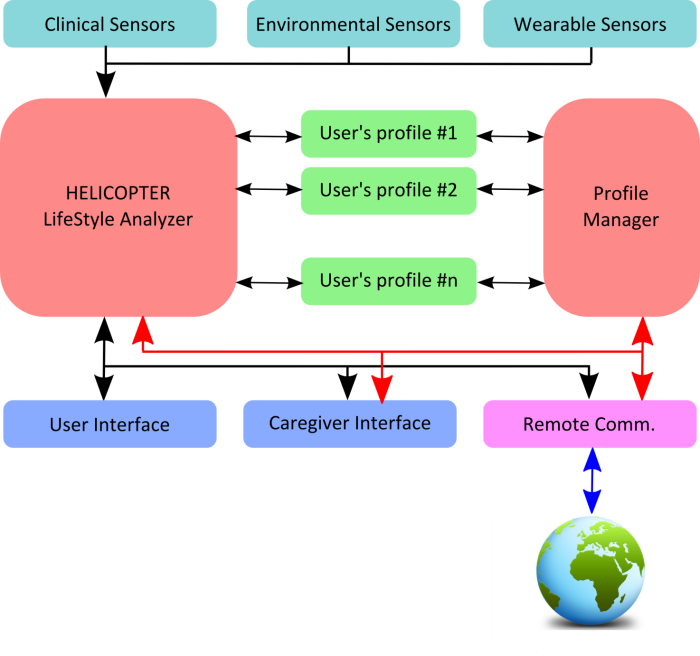 A heterogeneous sensor network will be designed and implemented, including environmental, wearable and clinical sensors. A global monitoring framework will be developed, in which all data converge toward a common database feeding a data analysis engine, capable of inferring from logged data current activity and behavioral information.
The inference model will involve medical knowledge as well as suitable "big data" analises techniques. The HELICOPTER environment will be deployed and tested at several pilot sites, located in Sweden and in The Netherlands, for a 18-months period.
Parnters:
Coordinator: Me.Te.Da. S.r.l.
Duration: 36 Months
Starting Date: 01 July 2013
Total budget: 2.880.010,00 €
Public contribution: 1.655.905,00 €
Contacts:
Sandro Girolami, MeTeDa Srl,
sandro.girolami@meteda.it, +39 347 3572118
Via S. Pellico 4, 63074 San Benedetto Del Tronto (AP), Italy
Paolo Ciampolini, University of Parma,
paolo.ciampolini@unipr.it,
+39 0521 905828, +39 334 6669195,
Viale G.P. Usberti 181/a, 43124 Parma, Italy