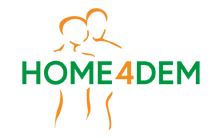 The first phase of the project aims at developing an innovative and modular third generation ICT solution for independent living, by integrating and improving two existing platforms.  A system of algorithms for behavioral analysis will be implemented, to allow constant interaction between users and the technological platform. In the second part of the project  the newly updated platform will be tested under real-life conditions in a 12-month trial, involving 120 People with dementia-caregiver dyads in four European countries. In Italy and in Switzerland the solution will be used as a product freely purchasable by families in the private market. In Sweden and in Norway, the platform will be tested in collaboration with formal care services. In this case, the professional caregivers working in the municipalities will have access to some of the information generated by the ICT solution to better monitor the care provided and promptly react in case of adverse events.
Objectives:
The overall objective of Home4Dem is to address the challenge of dementia care that is a major burden for industrialized societies, through the large-scale deployment in the market of an innovative ICT platform to enable people with dementia to live at home independently and to maintain an active social life, thus improving their quality of life and that of their caregivers. The test of the platform will be in real life condition preceded by a specific training to improve the acceptability of the solution and empower the technological literacy of the users.
Expected results and impact:
By contributing to the ability of the People with Dementia to live independently in their house, the Home4Dem platform is expected to improve their quality of life and avoid unnecessary institutionalizations. In addition, the platform will support informal carers in their daily tasks: by reducing the time spent in monitoring activities, the platform is expected to reduce their burden of care.
Ultimately, Home4Dem will enrich the range of existing home-based care services to support independent living and reduce the use of institutional care.
Parnters:
Coordinator: I.N.R.C.A.
Duration: 30 months
Starting Date: 01 September 2015
Total budget: € 3,352,100.00
Public contribution: € 1,645,950.00
Contacts:
Lorena Rossi,
Email: l.rossi@inrca.it
Via Santa Margherita, 5
60131 Ancona
Italy
Phone: +39 071 800 4893
Website not any longer available