iCareCoops is a new, ambitious 2-year project, that tackles the increasing demand for elderly care at a time of limited resources. Eight partners from seven European countries create novel ICT-driven solutions to empower carers and elderly people to extend the time they can live in their preferred environment by facilitating the cooperative model. iCareCoops is designed as a three-level-concept with information, cooperative, and AAL-driven service levels. These intelligent, interactive and inclusive services will be developed with deep end-user involvement and will be provided via a powerful web-based platform, a mobile app, and an Open API. Users will find essential know-how on elderly care and cooperatives on the complementary Open Knowledge Hub. The Foundation Navigator and convenient applications such as Member Management and Collective Buying streamline the process of founding and efficiently running a cooperative. Existing AAL tools will be integrated via the AAL Solution Selector and a free CareCast App.
Objectives: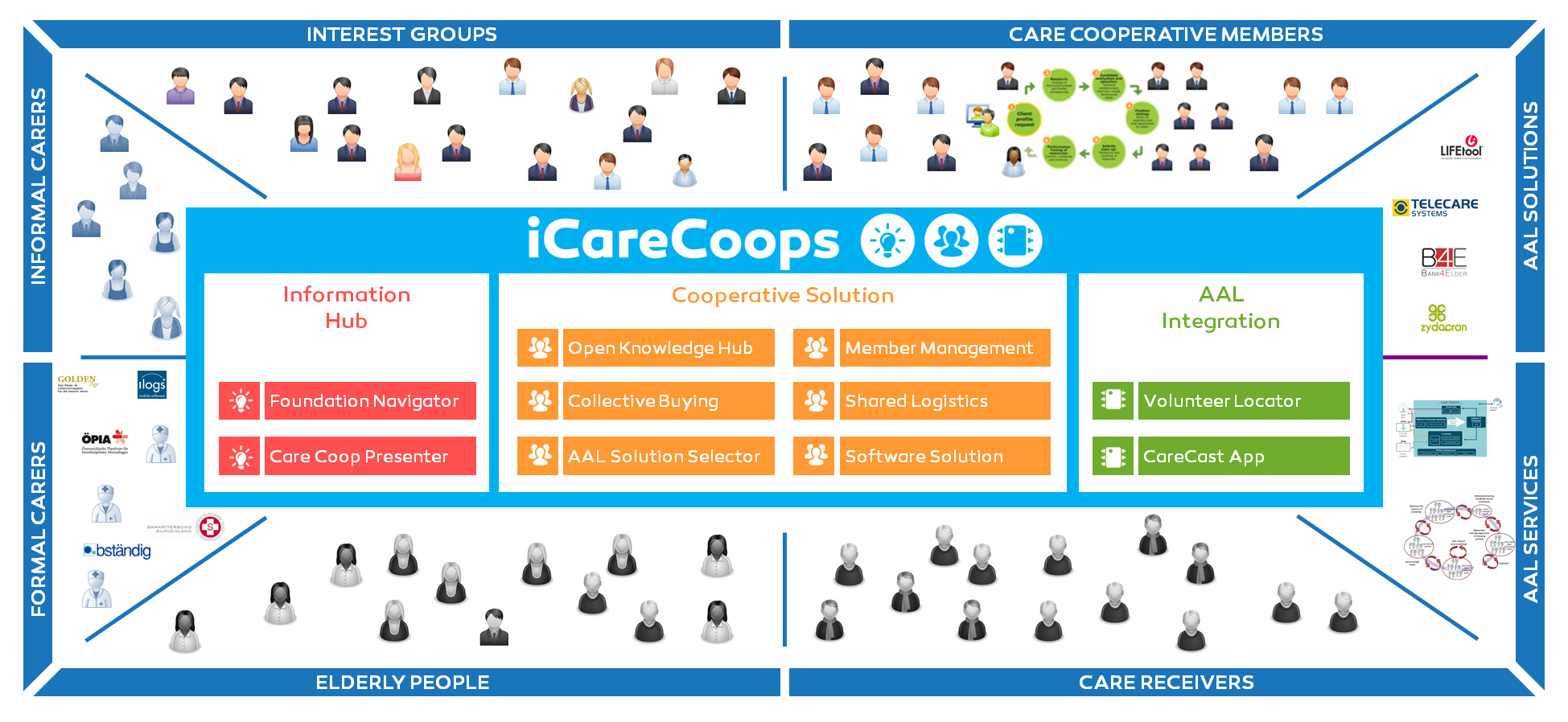 ELABORATE the foundation of iCareCoops to support and promote elderly care cooperatives by conducting research on existing best-practices of various domains.
STUDY concepts, approaches, and workflows of care communities in Europe.
BUILD an innovative, web-based software solution enabling collaboration & cooperation.
INTEGRATE existing AAL gateways, devices, and services on the platform.
IMPLEMENT, demonstrate and validate iCareCoops in a realistic pilot environment.
DEVELOP sustainable strategies for the rollout of elderly care cooperatives in Europe.
Expected results and impact:
Elderly people benefit from iCareCoops' cooperative model because of their increased purchasing power, access to AAL solutions, and control over decision making in the community, which ultimately leads to enhanced autonomy and better quality of life.
Care organisations will improve their interaction with elderly people, their service efficiency, and the integration of informal carers especially in rural regions.
iCareCoops facilitates the reduction of care costs, advancements in healthcare innovation, and the promotion of a sense of community and sharing.
Parnters:
Coordinator: SYNYO GmbH
Duration: 26 months
Starting Date:
Total budget: € 1.813.733
Public contribution: € 1.107.720
Contacts:
Johannes Burger
johannes.burger@synyo.com
+43 1 99 620 11 10
http://project.icarecoops.eu