IntegrAAL creates new arrangements of care delivery involving formal and informal carers, made possible by technology based products. Examples include Management of Patients with Dementia within the Community. Dementia has a large impact on the sustainability of health systems. Care in the community is generally desired for dementia patients which needs to be aligned with professional care through information sharing. ICT plays a central role in enabling this sharing on a need to know basis across different carers in the community, nurses, social workers, family, neighbours or even businesses. Supporting Circles of Care to Empower Families and Communities to Self-serve: Reablement services after Hospital discharge are key to achieve sustainability in future care provision. ICT can deliver information sharing including telecare and telehealth devices across care providers, aiding self-management and reducing readmissions. User collaboration throughout design and testing ensures the product meets the needs and is market aligned.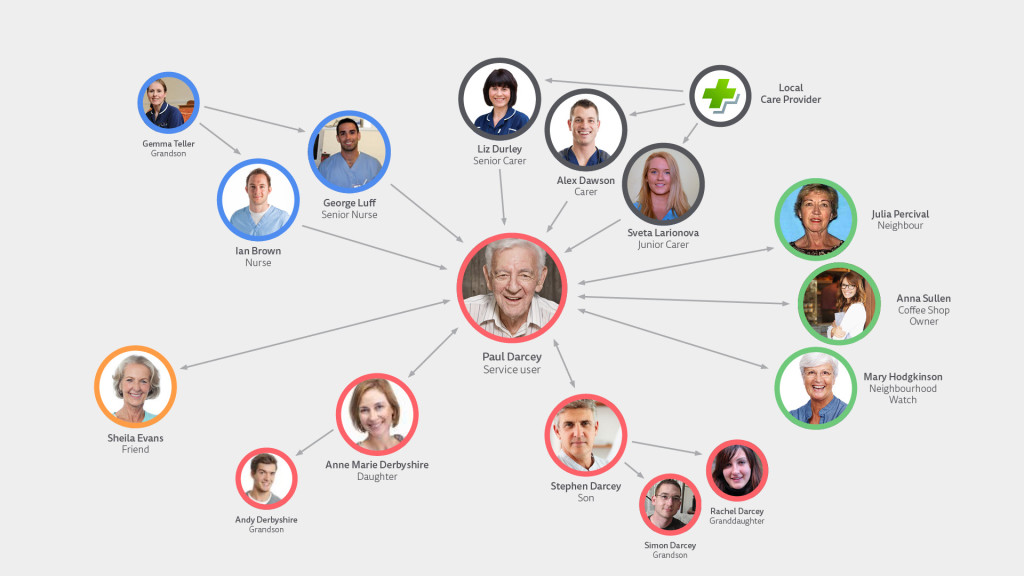 Objectives:
Internet-based and micro technologies have changed the way we live. But elderly people receiving care have not always benefited from these developments. IntegrAAL uses technology to help improve care for older people. Older people are often cared for by many different people, known as a circle of care. This circle may include informal carers as well as formal care from medical and social services. Sometimes it is difficult for the people in a circle of care to talk and share important information. IntegrAAL supports self-management and makes communication within a circle of care better, and smarter.
Expected results and impact:
There are two types of impact measures for this project.  Product Adoption Ratios: indications of how the product is being used by care providers and service users. It is our aim that carer apps become adopted and are used with a high frequency by care workers and service users. Care Outcomes: once the product is deployed and in use, the main measures to be tracked are improved social and health care outcomes. This includes outcomes regarding dehydration management, people with dementia and effectiveness of circles of care.
Parnters:
Coordinator: Nourish Care Systems Ltd
Duration: 30 months
Starting Date: 02 January 2015
Total budget: € 1.200.000
Public contribution: € 820.000
Contacts:
Name: Kevin Poulton
e-mail: kevin@nourishcare.co.uk
Phone: +44 (0)2380 002288
http://www.projectintegraal.eu/