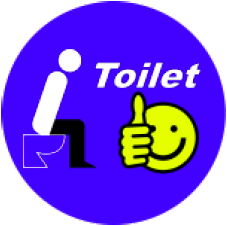 iToilet develops an ICT enhanced assistive toilet and evaluates the benefit in real life situations and with real primary and secondary users at the two test sites regarding
Primary end-users' dignity and independence, by its ability to enhance body stability when sitting on the toilet (individually adjustable optimum height, hands are free for handles), by supporting the sitting down and standing up process (dynamic adaptation of tilt and height), and by increased safety via emergency detection.
Secondary users/care persons, for which the burden when assisting the end user will be reduced when support is provided by the toilet itself.
Care institutions, because the toilet will enhance the care service offered to the clients but also will enhance health and well-being of the employees.
Objectives:
There is one very common appliance which we use several times a day which has not changed since its invention: our toilet.
The iToilet project addresses the needs of older (or physically disabled) persons when using a toilet by envisioning a supportive ICT enhanced toilet adapting to the individual user needs of older end-users.
The project also addresses the needs of care persons when providing assistance to primary users in the toilet room.

Expected results and impact:
iToilet develops a toilet system for private and for institutional use. Field evaluation in an institutional setting ensures the involvement of a relevant number of end-users living at home with a significant diversity while at the same time guaranteeing professional support by experienced experts.
The iToilet system will provide new services which to our knowledge mostly are not available up to now in a modular commercially available system for the end user groups.
Parnters:
Coordinator: TU Wien, Institute for Design and Assessment of Technology
Duration: 30 months
Starting Date: 01 April 2016
Total budget: 1.526.699,00 €
Public contribution: 1.014.862,00 €
Contacts:
itoilet-tuw@fortec.tuwien.ac.at ,
phone: +43-1-58801-187701, fax: +43-1-58801-187799
TU Wien,
Institut für Gestaltungs- und Wirkungsforschung
Favoritenstrasse 9-11/187-2b
A-1040 Wien
Austria
http://www.aat.tuwien.ac.at/itoilet/project.html