Letitflow will provide an architecture and implementation of a workflow platform specialized for elderly workers. In order to facilitate the reuse of the platform on different domains, we will propose a modular architecture with open interfaces that will allow customizing the tools for different scenarios, and plug new intelligence algorithms, different type of users, new HMI, communications protocols. The structure will consist in a mix of N-tier applications concepts and service-oriented architecture over enterprise technologies. This kind of structure helps the project to build a modular, integrated, scalable platform application suite. Some of the modules are standalone, i.e. they are client applications that can run independently.  LetItFLOW will involve users extensively in the requirements analysis (at the beginning), the usability engineering and pre-testing of first prototype (mid of the project) and final evaluation tasks (end of the project).  Involvement of the end users means to investigate users' needs and wishes addressed to the project objectives.
Objectives: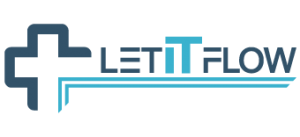 The LetItFlow project aims to design and implement a workflow support system to help elderly hospital workers (mainly nurses) to accomplish their daily tasks and the adaptation to new procedures and methods. The system should enable assistance by means of workers activity monitoring, portable communication tools, alerting services, adapted interaction interfaces or workflow management. It is based on fixed and mobile platforms that interact with the nurses to guide them in their work activities. Different Human-Computer interfaces are considered in order to adapt to the user's activities and profile.
Expected results and impact:
The platform aims to have a positive impact:
The LetItFlow tool will alleviate the task of nurses by a better distribution of the workload. Distributed smart monitoring of the team and worker state will enhance collaborative work. It will ease a smooth adaptation to changes, the smart assignment and tailoring of tasks, will facilitate the work for nurses who will feel more comfortable.
The tool also supports knowledge transfer in real life scenarios, by putting together young and elderly employees in several job positions
The project aims to overcome problems related to the foreseen lack of caregivers, by providing tools that ease their daily task.
Parnters:
Coordinator: Integrasys S.A.
Duration: 36 Months
Starting Date: 01 September 2014
Total budget: 1.450.783,00 €
Public contribution: 1.136.700,20 €
Contacts:
Jose Manuel Sanchez
jose.sanchez@integrasys-sa.com
+34 916316846
http://www.letitflow-project.com