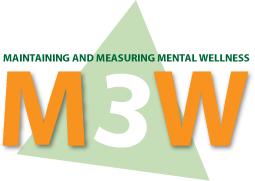 The M3W project attempts to use the fact that on-line games are able to collect behavioural data in order to measure mental (and motoric) abilities and especially their changes over time. If we can measure states and state changes in a scientifically sound way and a strictly controlled environment then we can provide better and more help in time for the elderly and their families. The main objective of the project is to develop a mental wellness toolset for self-usage (i.e. for the individuals and their families), and to a lesser extent for the medical experts (psychiatrists, psychologists, carers, etc.). The goal is to measure and visualise mental changes, tendencies in an entertaining way, and to give indications, sort of warnings, alarms or reports, to the affected persons and their relatives, friends, that it is advisable to visit a physician. Our ambition is to compare one's mental wellness to his/her own past mental wellness conditions (in relative values), while it is not our aim to compare one's mental ability with others'. ICT & web technologies should be used out maximally.
Objectives:
Develop a mental wellness toolset for self-usage, specifically computer games, tailored for elderly people. Measure and visualise mental changes and tendencies in an entertaining way. Give indications (warnings, alarms, reports) to elderly persons, relatives, friends or carers.  Develop a scientifically sound methodology for the measurement and evaluation of data. Build a multinational mental wellness community backed by multilingual websites. Create the multilingual content for the mental-wellness multinational community.
Expected results and impact:
The earlier one recognises a negative change in his/her own mind or his/her relative's mental ability, the higher the chance is to stop, delay or slow down the speed of health weakening. Regular self-monitoring of elderly persons' mental wellness may extend the time of active and joyful participation in life. Elderly people will be active longer and in contacts with others in their environment. Families will enjoy the toolset that could help them recognise alarming changes in their relatives' mind. The project should bring improvements to the quality of life of individuals, their relatives and friends, and, consequently, the quality of life of the whole society will develop.
Parnters:
| ORGANISATION | TYPE | COUNTRY | WEBSITE |
| --- | --- | --- | --- |
| Budapest University of Technology and Economics - Healthcare Technologies Knowledge Centre | R&D | Hungary | http://emt.bme.hu/emt/en |
| Actimage Ltd. | SME | Luxembourg | http://www.actimage.com/ |
| Frontida Zois Ltd. | SME | Greece | http://www.frontidazois.gr/ |
| Gaudiopolis Retirement Home | end-user | Hungary | http://www.gaudiopolis.hu/index.html |
| Semmelweis University – Faculty of Medicine, Department of Psychiatry and Psychotherapy | R&D | Hungary | http://www.semmelweis-univ.hu/ |
| Silver Kiadó (Publishing) Ltd. | SME | Hungary | http://www.otvenentul.hu/ |
| Zurich University of Applied Sciences – Institute of Facility Management | R&D | Switzerland | http://www.ifm.zhaw.ch/ |
Coordinator: Budapest University of Technology and Economics - Healthcare Technologies Knowledge Centre
Duration: 36 Months
Starting Date: 01 December 2011
Total budget: EUR 2.1 million
Public contribution: EUR 1.8 million
Contacts:
Pál Breuer, project director
pbreuer@mail.datanet.hu
Phone: +(36 1) 463 2022
Address: BME EMT – Healthcare Technologies Knowledge Centre, Budapest Univ. of Technology and Economics
Egry József u. 18.
1111 Budapest
Hungary
http://m3w-project.eu/