Turning the recall of memories of people with dementia into an interactive game has several advantages. However, people with dementia are a challenging target group to develop a game for. Therefore the development will take place in close collaboration with the aimed users. In the first months, persons with dementia will be interviewed, as well as the people around them: spouses, caregivers and (grand)children.
Based on their preferences with regards to storytelling, memories and use of technology, a first prototype will be developed in an iterative way: after each step representatives of the end-users will be asked for input.
When the final prototype after a year is ready, after about one year, field trials will be conducted in which a group of test-users will use the system and review it in terms of usability, attractiveness, usefulness and value for the relationship and communication.
Since we work closely together with the field, the tool can be distributed in practice easily
Objectives: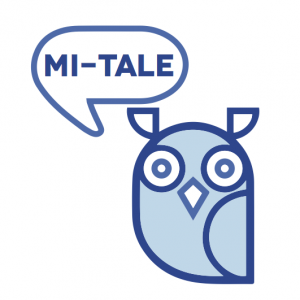 Memories are important for dementia patients; they influence how they act and feel nowadays. However, for people around them, it is often hard to explore what is really going on in their beloved one's mind. In MI-Tale we develop a digital and interactive game to recall and record memories. This tool contains existing material such as historical pictures and video's, but also allows the user to add own material. In this way it helps to discover what the elderly person is thinking and feeling and it promotes conversation among generations. Next it allows players to complete a personal life-story book.
Expected results and impact:
In the first months, an amount of 35 involved persons will be interviewed. In the pilot phase about 70 elderly people with dementia will be included, as well as 85 caregivers. This participative approach makes MI-Tale known among a big amount of potential users, both elderly persons and organisations working with them. Expected main impact of, first, the project and, later on, the product is an improvement of communication (in terms of clarity, fun and variety) among dementia patients and their beloved ones. Working closely together with care organisations, bringing the product to the field will be done organically.
Parnters:
Coordinator: National Foundation for the Elderly
Duration: 24 Months
Starting Date: 01 May 2017
Total budget: €1,001,627.00
Public contribution: €713,109
Contacts:
Marije Blok
m.blok@ouderenfonds.nl
06-29480202
http://www.mi-tale.eu