MyGuardian will provide the following technologies: easy-to-use and rich communication between the mobile senior and the caregivers  in order to reassure both the caregivers and the senior, thanks to the enrichment of communication messages with contextual data, about the senior's psychological state; remote tracking and assistance that will enable the monitoring of the senior's physiological state and behaviour in order to detect risk situations and appropriate, personalised intervention, escalating depending on the assessed criticality of the situation;  coordination between caregivers that will improve awareness within the group of caregivers, and enable the smooth distribution and delegation of care tasks. The project will involve three end-users organisations in Spain, France and The Netherlands. End-user organisations in these three countries will be involved and will provide access to approximately 30-50 seniors with mild cognitive impairments together with their voluntary caregivers and possibly also professional caregivers (e.g., their social nurses).
Objectives:
The MyGuardian project aims to facilitate the safe and secure mobility of seniors with mild cognitive impairments while preserving their autonomy and dignity, and thereby enables seniors to increase their mobility (while increasing their self-confidence) and consequently to take part in the self-serve society. At the same time, MyGuardian improves the wellbeing and efficiency of voluntary caregivers (e.g., family and friends) by ensuring their peace of mind and keeping them informed of the senior's health state and risk situations, and improves the efficiency of professional caregivers by providing them with up-to-date information and by supporting the coordination of their care efforts.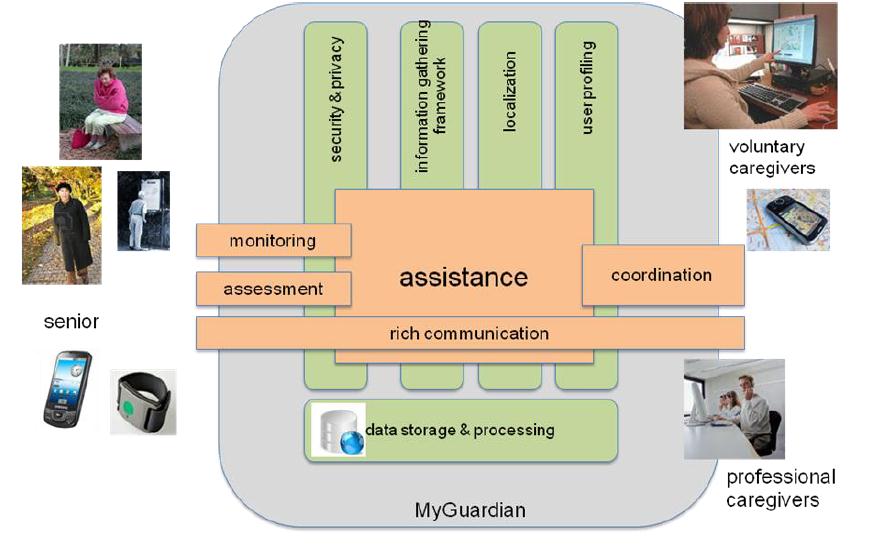 Expected results and impact:
The success of the project results are ensured by the presence of three SME's (Hi-Iberia, ConnectedCare and VigiSense) with a strong commitment to the marketing of the MyGuardian solution, working in the project and distributing at least in the four countries involved, but also to other markets, thanks to the Internationality of some partners, like VigiSense, who are also present in Italy, Austria, Germany and Eastern Europe, which ensure the exploitation strategy through the whole of Europe and to different targeted markets. The projected time-to-market will be 1-2 years. The service fits both the ageing, self-serve society trends, and the trend of wide availability of mobile computing and ubiquitous communication technologies.
Parnters:
MY GUARDIAN
| ORGANISATION | TYPE | COUNTRY | WEBSITE |
| --- | --- | --- | --- |
| HI-Iberia Ingenieria y Proyectos SL | SME | Spain | www.hi-iberia.es |
| CETIEX | End-user | Spain | www.cetiex.es |
| University of Geneva | University | Switzerland | www.qol.unige.ch |
| VigiSense | SME | Switzerland | www.vigisense.com |
| ConnectedCare | SME | The Netherlands | www.connectedcare.nl |
| CNRS Ageing, Imaging, Modeling lab | End-user | France | www.agim.eu |
| Careyn | End-user | The Netherlands | www.careyn.nl |
Coordinator: HI-IBERIA Ingeniería y Proyectos SL
Duration: 36 Months
Starting Date: 01 May 2012
Total budget: 2.287.932 €
Public contribution: 1.394.827 €
Contacts:
Inmaculada Luengo
iluengo@hi-iberia.es
R&D Project Manager
Tel: +34 91 458 98 23
Mobile: +34 605 099 972
C/ Bolivia, 5
28016 Madrid
Spain
http://myguardian-project.eu/