The NavMem system is targeted at elderly travellers, but will include a number of features targeted specifically at MCI users. The main scenario focuses on supporting people when visiting unfamiliar environments, such as travelling within unknown areas of a city. The navigation companion provides three different modes: (1) Background mode: the system provides coarse multimodal spatial cues, such as direction and distance to the next intermediate goal, such as a bus stop. Users try to find their own routes, which will stimulate their spatio-cognitive abilities. (2) Navigation mode: the system will provide detailed navigation instructions that are tied to landmarks. (3) Safety line: In case the user is not able to overcome disorientation, the system can temporarily share the user's location on demand to (informal) care givers to get personal support. Following the human-centred design process, end-users and all stakeholders will be involved throughout all stages of the development.
Objectives: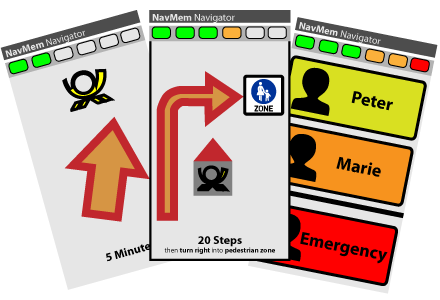 Age related memory decline, mild cognitive impairments (MCI), and cognitive impairments that occur with diseases, such as strokes, brain injuries, or early stages of dementia, have negative effects on the ability to navigate and to orient oneself. Affected people, who repeatedly start experiencing disorientation events, often become scared of venturing out alone. The aim of the project NavMem is the development of a mobile companion for people with memory decline in order to support their navigation and orientation and at the same time promote a feeling of safety.
Expected results and impact:
The product offered will support older persons in navigation, orientation and familiarisation. An additional location sharing service will allow to contact formal or informal care givers. The potential users are elderly people including those with some form of mild cognitive impairments. About 25% of people above 65 years develop some form of cognitive impairment. With about 29% of the EU's population being above 65 years old in 2050. This means that in 2050 the market will count about 30-35 Mio potential users with MCI and more than 120 Mio potential elderly users.
Parnters:
| ORGANISATION | TYPE | COUNTRY | WEB LINK |
| --- | --- | --- | --- |
| OFFIS e.V | Research | Germany | http://www.offis.de |
| Siemens AG | Industry | Germany | http://www.siemens.com |
| Navevo Limited | SME | UK | http://www.navevo.com |
| Swedish Stroke Association | User Organization | Sweden | http://www.strokeforbundet.org |
| ULUND (Lunds universitet) | Research | Sweden | http://www.certec.lth.se |
| Astando AB | SME | Sweden | http://www.astando.se |
| Roessingh Research and Development | SME | The Netherlands | http://www.rrd.nl |
Coordinator: OFFIS – Institute for Information Technology Department of Health
Duration: 36 Months
Starting Date: 01 October 2012
Total budget: 1,98 Mio EUR
Public contribution: 1,08 Mio EUR
Contacts:
Dr. Wilko Heuten
OFFIS – Institute for Information Technology
Department of Health
Escherweg 2
26121 Oldenburg, Germany
email: wilko.heuten@offis.de
phone: +49 441 9722 171
http://www.navmem.eu