OsteoLink is the first online and in-person social network dedicated to osteoporosis in Europe and Australia.
In Summer 2009, a multi-national survey commissioned by the University of Geneva, the International Osteoporosis Foundation (IOF) and their partners, of over 1,600 people with osteoporosis and health professionals, highlighted specific communications needs around treatment adherence challenges in osteoporosis, which persist despite widespread awareness-raising efforts.
Overall, the results indicated a need for easy-to-understand information for patients, helping them to have better conversations with their health providers.
OsteoLink was created to respond to this need and to support greater interaction in the osteoporosis community. It builds on the growth of the internet in patient advocacy.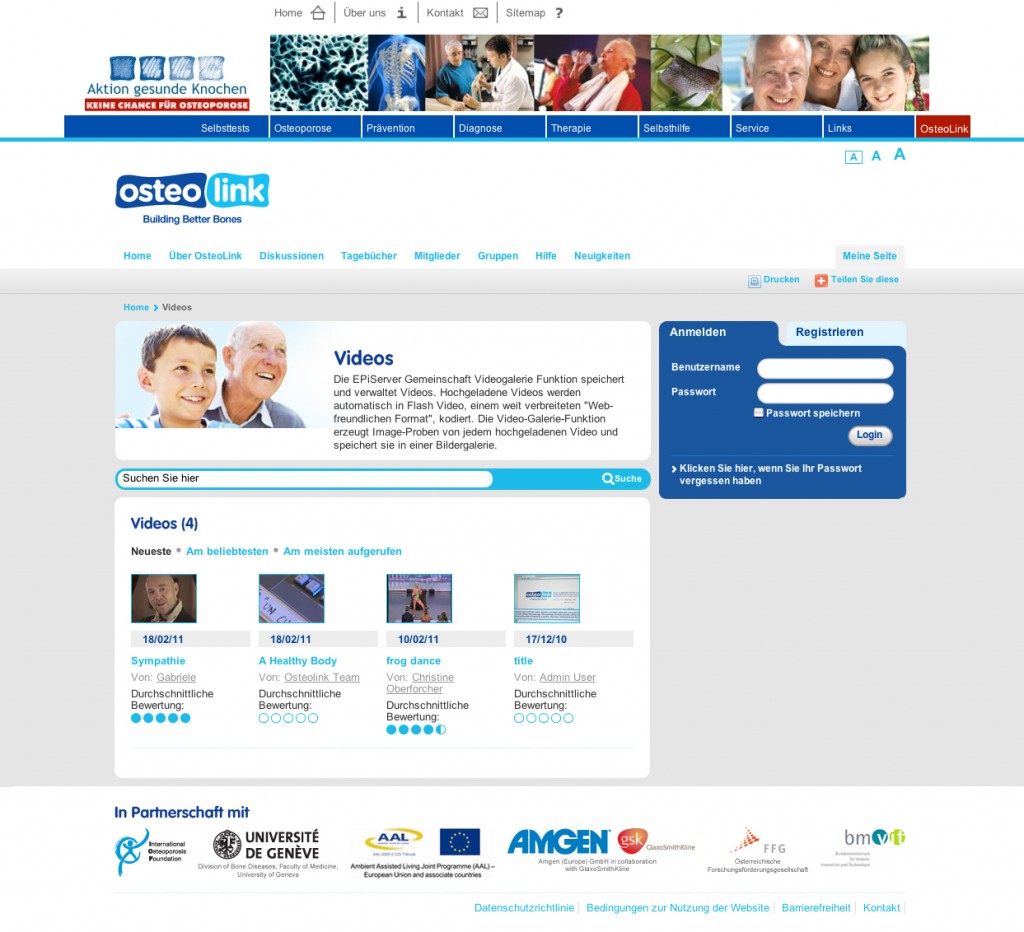 Objectives:
OsteoLink was successfully created and launched in 2010:
Osteolink went live in Austria and Sweden in December 2010
A total of 1,900 unique users from 16 countries (02-04/2011)
OsteoLink provides a range of educational material that is scientifically validated and credible.
To date, 108 unique media articles have featured OsteoLink and the survey data. These have reached audiences throughout Europe and Australia.
13 IOF member societies from 9 countries are actively engaged in the pilot programme.
In 2011, Germany, Switzerland, Australia, Portugal, Spain, Greece and France will go live.
Expected results and impact:
1. Create the first online and in-person osteoporosis community that operates at the global and country level, addressing the educational and support needs of osteoporosis patients in Europe and Australia
2. Provide tools for better communication for people with osteoporosis and health professionals to help improve adherence
3. Encourage better dialogue among people with osteoporosis, healthcare professionals, friends and families
4. Inform the osteoporosis community about OsteoLink and its role in improving communication
Parnters:
OSTEOLINK
ORGANISATION
TYPE
COUNTRY
WEBSITE
University of Geneva,
Faculty of Medicine, Division of Bone Diseases

Public Research Organisation
Switzerland
www.unige.ch
International Osteoporosis Foundation (IOF)
SME
Switzerland
www.iofbonehealth.org
Amgen (Europe) GmbH
Pharmaceutical Company
Switzerland
www.Amgen.com
Hill & Knowlton
Public Relations Firm
UK
www.Hill&Knowlton.co.uk
Action for Healthy Bones (AHB)
Patient Organisation
Austria
www.aktiongesundeknochen.at
Syzygy
Digital Strategy Firm
UK
www.syzygy.net
Coordinator: International Osteoporosis Foundation – Switzerland
Duration: 20 Months
Starting Date: 01 April 2010
Total budget: € 1.536.668
Public contribution: € 411.254
Contacts:
Laurence Triouleyre
ltriouleyre@iofbonehealth.org
OsteoLink Project Manager
Laurence Triouleyre
OsteoLink Countries Coordinator
ltriouleyre@iofbonehealth.org
University of Geneva, Faculty of Medicine
Division of Bone Diseases
& International Osteoporosis Foundation
9, rue Juste-Olivier
CH -1260 Nyon
Tel.: +41 22 994 01 22
http://www.osteolink.org