The services accessed through the PALETTE platform will be chosen, based on the most important needs expressed by seniors with low computer literacy. These services will be organised around four axes. 1. Communication, to foster social activities and contacts as well as encourage active participation in the community. 2. Wellness services to support long term independence of individuals. 3. Lifelong learning services to help seniors to keep up with ICT, media, general and professional skills, control of personal finances. 4. Working services to help seniors to stay active and earn an income beyond the pension age.
All these services won't be reinvented, we will rather provide simplified access (when needed) to existing services as well as educational material through a web platform to eliminate existing barriers to the information.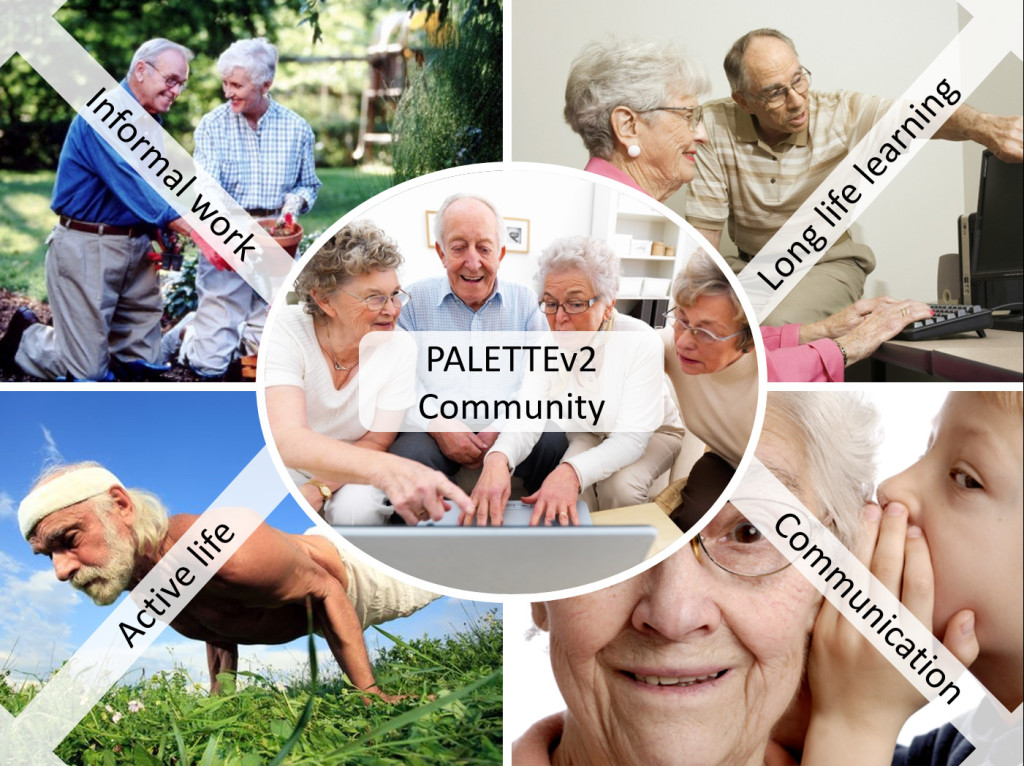 Objectives:
Nowadays a real digital divide exists between people with low and high computer literacy. The restricted access to computer services can be a serious handicap for the less skilled. Therefore, the PALETTEv2 project aims at providing a web platform helping seniors with low computer literacy to stay socially, economically and physically active. The platform will provide a simplified access to many online services such as communication, lifelong learning, working services and well-being in order to promote the participation of everyone to the digital society and hence to society as a whole.
Expected results and impact:
The PALETTEV2 will break the digital divide the less skilled seniors are suffering from by fostering their active involvement in social and economic activities through ICT services. The user centered approach will ensure the adequacy and accessibility of our platform on any devices as well as a fully personalized experience. To avoid ghettoization, we will ensure compatibility with many existing applications. The final product and services of PALETTEV2 will be commercialized to different customers and stakeholders such as older adults, local government agencies, service providers and health insurance institutions.
Parnters:
Coordinator:
Duration:
Starting Date:
Total budget: € 2.014.440
Public contribution: € 1.366.051
Contacts:
Frederic Ehrler
Frederic.ehrler@hcuge.ch
+41223728697
http://www.palettev2.eu/