The core idea is to integrate new web based services such as internet telephony, instant messaging (e.g. Skype), group calendars (e.g. Google Calendar) and various types of social software (e.g. facebook.com, flickr.com, youtube.com, twitter.com) as well as applications of non-electronic service providers (leisure local offers, theatre, cinema…) into intuitively usable touch screen devices e.g. in form of digital picture frames.
The SI-Screen project aims to make technology tools useful, attractive and usable by every user, especially elderly people. Therefore the SI-Screen is focusing on images and new concepts far from the old WIMP paradigm (Window, icon, menu, pointing device), which are very easy to understand and provide, together with the touch screen, an intuitive handling. In addition, the age-related cognitive changes require an additional focus on accessibility and usability.
To include the needs and interests of the elderly, end-user will be heavily involved.
Objectives: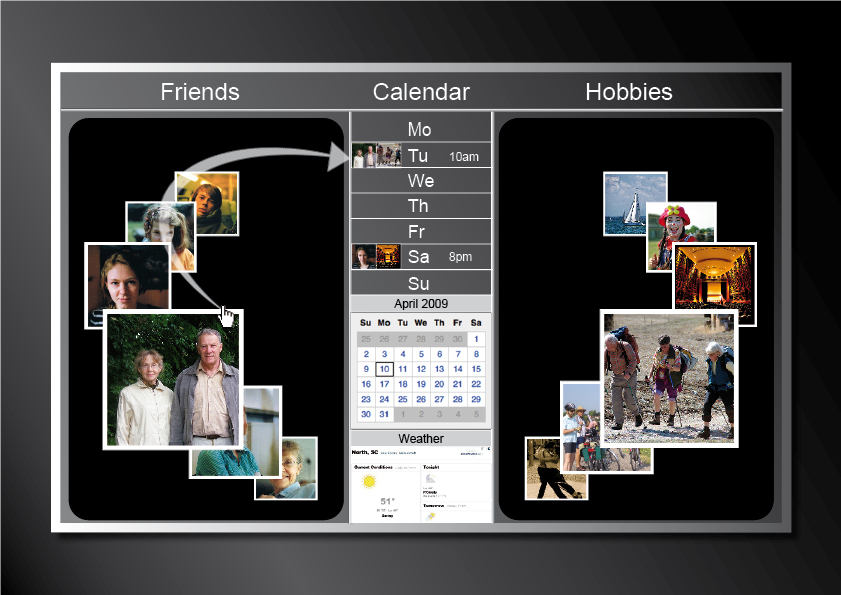 It is the key objective of this project to develop a new product which supports the elderly in having more social contacts by using the social web. An easy to use user interface motivates the elderly to be more active and have more face-to-face communication.
The Target Vision of this project has therefore been determined as:
"A new economically, socially and culturally sustainable social interaction tool that enables elderly people to easily stay or get in touch with existing and new people of interest and which helps to find and participate in accessible local activities, health and wellbeing offers."
Expected results and impact:
The core result of the project is a product that supports the interaction of elderly people with the "Social Web" and the integration of user oriented local services through an image based multimedia device that is adjusted to the needs of the target group. The focus is on easy to use, motivational and intuitive usability and the improvement of quality of life through increased social interaction and support of autonomy. Thereby, the user interface will be mainly based on pictures – in contrast to today's text centred user interfaces on the Social Web and WIMP paradigm.
Parnters:
SI SCREEN
Coordinator: SportKreativWerkstatt
Duration: 30 Months
Starting Date: 01 October 2010
Total budget: € 2.744.500
Public contribution: € 1.714.100
Contacts:
Dr. Javier Gámez Payá
Address:
Infanteriestr 19/3. 80797. Munich (Germany)
Phone Number: +34 628 873 340
Email: jgp@innovationsmanufaktur.com
Email: jgp@sportkreativwerkstatt.de
http://www.si-screen.eu