The envisioned platform is conceived as an integrated solution which combines sensor-controlled serious gaming, web-based information services and interactive entertainment and which brings all that onto a standard television set – a technological environment elderly people are so much more familiar with than a PC. Regarding an appropriately intuitive controller, the Silvergame consortium has been doing successful user acceptance tests with a specially interfaced touchscreen application running on an iPad or tablet PC. Using open standards and allowing interoperability, the Silvergame platform wants to make future upgrades to the pilot applications just as easy as the integration of new applications at a later stage in the development.
The Silvergame prototype will include three interactive modules on one central platform:
A virtual silver song club, where people meet to sing with each other
A multimedia driving simulator for cognitive training of traffic situations
A sensor-based dance and fitness training application
Objectives: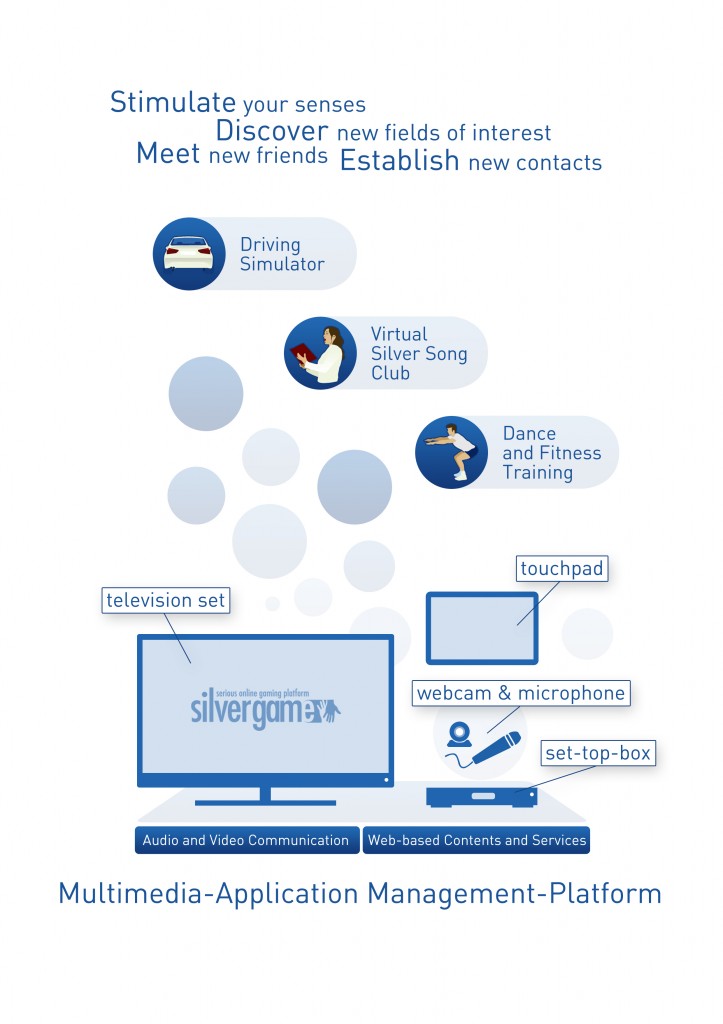 Silvergame is a multimedia platform, which is to host a variety of game-based applications, community features and web-based services specifically designed to cater to the needs of elderly people. The project focuses on activities like singing, dancing and driving to stimulate senior citizens and encourage social interaction among them. The idea is to take advantage of information and communications technologies to contribute to the physical and mental well-being of elderly people.
Expected results and impact:
Silvergame offers new options for interaction and communication by bringing into play the same mechanisms that have contributed to the success of the web-based social media and network gaming – success stories that have been developing with hardly any participation from the elderly at all.
The expected result is an established technological platform with three ready-to-use applications catering to the aforementioned goals – and flexible enough to take on additional applications as plug-ins to add more functionalities in the future.
Parnters:
SILVER GAME
| ORGANISATION | TYPE | COUNTRY | WEBSITE |
| --- | --- | --- | --- |
| Exozet Berlin GmbH (Coordinator) | SME | Germany | www.exozet.com |
| AIT Austrian Institute of Technology | Research | Austria | www.ait.ac.at |
| Audio Riders Oy | SME | Finland | www.audioriders.fi |
| Fraunhofer FIRST | Research | Germany | www.first.fraunhofer.de |
| Golden Oldies / Grenville Jones | End-user | UK | www.golden-oldies.org.uk |
| Reha-Zentrum Lübben | End-user | Germany | www.rehazentrum.com |
Coordinator: Exozet Berlin GmbH, Berit Hanold
Duration: 26 Months
Starting Date: 01 May 2010
Total budget: € 2.777.061
Public contribution: € 1.862.012
Contacts:
Henry Bauer
Email: henry.bauer@exozet.com
Rotherstraße 20
10425 Berlin
Germany, Tel: 0049 (30) 2465600
Website no longer available