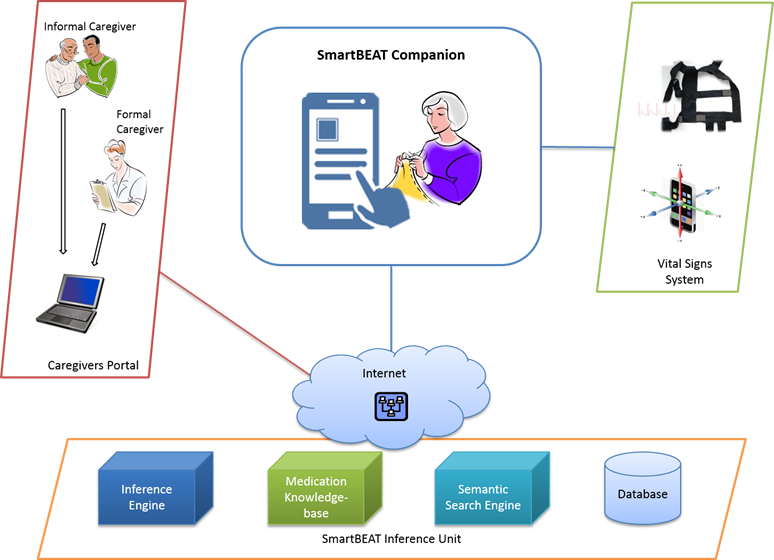 Four main modules will be used: a mobile vital signs monitoring component capable of recording all physiological measurements needed to adequately monitor the health status of these patients, two support application frameworks responsible for the communication with the users and their carers and an innovative intelligence component which will process all the acquired and environmental data to produce relevant knowledge offering an overall approach where patients and caregivers can define their interests and receive curated and valuable information from several information sources. The pilots will be performed in 3 sets by each end-user organization simultaneously, and will focus on the different kinds of end-users: the pilots developed in Portugal and in Belgium will focus on the HF older adults and the formal caregivers (cardiologists and other physicians), while the pilots developed in Norway will assess the impact of the system on the HF older adults and their informal caregivers (family, friends, neighbours, etc).
Objectives:
Supporting senior Heart Failure patients, their family, relatives and friends, cardiologists and general healthcare professionals accessing innovative ICT solutions that promote an easier, wider and sustainable access to healthcare is the main goal of the SmartBEAT project.  SmartBEAT offers an integrated solution to leverage patient self-care through autonomous condition monitoring and real-time feedback to their carers. Using SmartBEAT, it is possible to improve disease outcomes and enhance the quality of life of senior Heart Failure patients.
Expected results and impact:
A full–fledged, mobile and tailored integration of telemonitoring sensors for Heart Failure care that connects both primary and secondary end-users;
Processing algorithms capable of identifying subtle changes on physiological parameters that may represent HF decompensations, preventing hospitalization;
An overall solution where caregivers, and potentially patients, can define their interests related to heart diseases and related drugs or procedures, and semantic processes will give back curated and valuable information from scientific and research papers.
Parnters:
Coordinator: Fraunhofer Portugal AICOS
Duration: 36 months
Starting Date: 01 May 2015
Total budget: 2 353 869.41 €
Public contribution: NA
Contacts:
Filipe Sousa
filipe.sousa@fraunhofer.pt
Rua Alfredo Allen, 455
4200-135 Porto
PORTUGAL
http://www.smartbeatproject.org/