Heating conditions in home environment can have significant impact on older adults. Serious health problems and lack of comfort can originate when home environments are not properly heated. This can have serious implications on older adult's health and wellbeing. In addition, it can have significant impact on informal carers who cannot afford leaving elderly people alone in their home.
Objectives:
The aim of the SmartHeat project is to radically change the home heating experience for health, comfort and wellbeing of elderly people. The goal will be achieved via the development of a smart, secure and elderly friendly ICT system for home heating monitoring and control. The system consists of hardware and software components which monitor and control the temperature in every room independently. The platform will also be equipped with intelligent algorithms, which learn the user habits and control the system in an automatic and transparent way, with a Web and smartphone application in order for the users (including relatives) to remotely interact with the system from home as well as via the Internet when being outside the home and with wearable computing devices (e.g. a bracelet or smartwatch) which help optimize the system based on biometric and other environmental parameters.
Expected results and impact: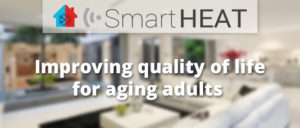 The project results are expected to improve comfort at home and at the same time to reduce the energy expenses. These are considered to be major benefits which have positive impact on the quality of life of older citizens and which, at the same time, promote self-management and enhance autonomy. In addition, the SmartHeat platform will be equipped with a remote management and alert system which facilitates the role of formal and informal carers in monitoring and controlling the temperature conditions of older adults at home.
Parnters:
Coordinator: University of Geneva
Duration: 36 months
Starting Date: 01 October 2015
Total budget: 2.746.870
Public contribution: 1.552.601
Contacts:
Michel Deriaz
michel.deriaz@unige.ch
+41 22 379 01 04
http://www.smartheat-aal.eu/