SpONSOR is an AAL funded project which aims at developing, testing and implementing an ICT platform that facilitates the posting, browsing and exchange of key information between competence-offering seniors and search-based requests, from competence-demanding organisations from the public, private and voluntary sectors. SpONSOR, will significantly enhance senior persons' access to a wide range of occupational positions, thus meeting the AAL call 6 goal for supporting sense-making and the well-being of seniors in occupational environments whenever possible.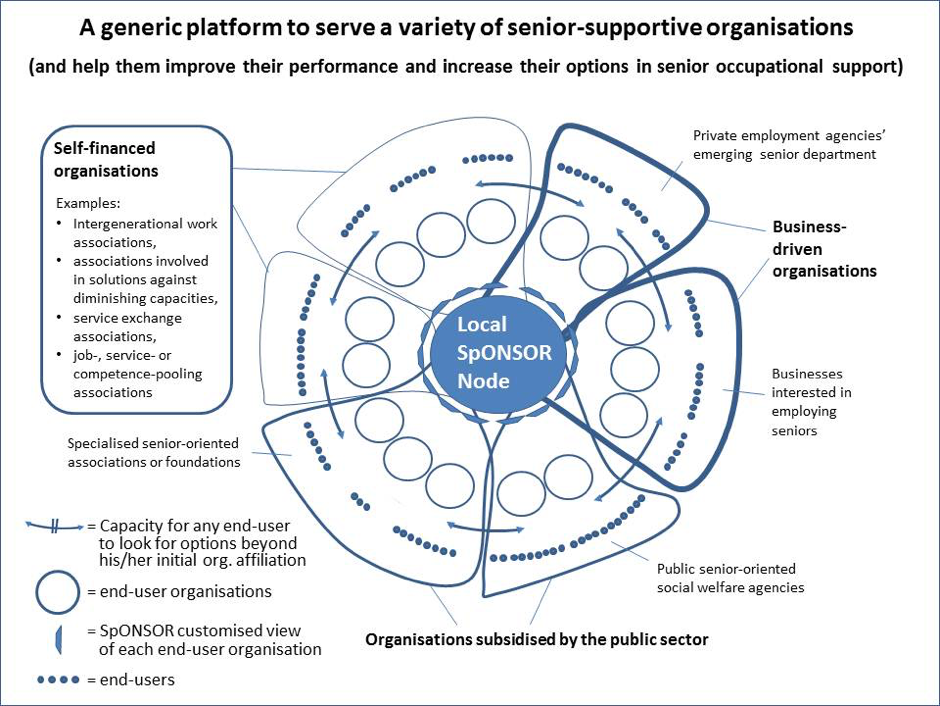 Objectives:
SpONSOR will offer a number of core services, activated by the mediating organisations and personalised by the end-users themselves:
Supporting seniors to identify and specify their preferences and requirements, thereby overcoming age-deficit thinking;
Enabling seniors to describe and specify competencies, skill sets and conditions of applications in a holistic manner;
Enabling seniors to describe offers of service and their capabilities specific to the task;
Presenting these items in a consistent and optimised manner, targeted at the most appropriate organisations and users;
Advising seniors on legal issues regarding contracts or local labour constraints for senior occupation;
Advising seniors on the variety of labour regulations regarding post-retirement activities.
Expected results and impact:
SpONSOR achieves its goal primarily through enhancing services within senior-oriented organisations (which we will also call end-user organisations), as a generic indirect mechanism building on the motivation, legitimacy and work already performed by these organisations regarding the possibility for seniors to be engaged in effective occupational activities of some kind. Each end-user organisation will be taken into account according to its context, mission and characteristics, and will be able to configure SpONSOR in its own terms by implementing those services best suited to meet their end-users requirements and preferences.
For the end-user, the platform is therefore primarily available through their specific organisational affiliation, with accessible interfaces and through different devices: computers, tablets, interactive TV or smartphones.
Since the context of use is crucial to the success of matchmaking functionalities, the SpONSOR methodology and technology makes extensive use of participative co-design strategies. SpONSOR will deliver both technology and methodologies in the form of associated toolkits that will enable elderly organisations and their end-users to work together and to use the SpONSOR matchmaking tools to meet the real requirements of both the organisation and its users. By focusing on facilitating this central set of relationships (where we can consider the organisation plus its end-users as "extended users"), we can identify, consider and support the most important interactions. Without such a clear focus, non-technological systems tend to fall apart. SpONSOR will properly contextualize the service and social innovation that is being sought and concentrate its efforts on the fulcrum of this highly dynamic interaction.
Parnters:
Coordinator: Luxembourg Institute of Science and Technology - LIST
Duration: 36 months
Starting Date: 01 May 2014
Total budget: € 3.292.786,89
Public contribution: €1.987.121,49
Contacts:
Dr. Djamel Khadraoui
djamel.khadraoui@list.lu
00 352 / 42 59 91 2286,
Luxembourg Institute of Science and Technology (LIST)
5, Avenue des Hauts-Fourneaux
L-4362 Esch-sur-Alzette
http://sponsor-aal.eu