The platform provides a simple and effective instrument to interact with the elderly: STAGE is based on an extranet platform connected to simple devices, such as tablets, that answer to the need for autonomy, independence and self-confidence of the elderly to improve the quality of their free time and their participation in social life. It provides easy-to-use, trustful services, available for the elderly through specifically designed and friendly interfaces.
The elderly users are free to choose the performance they want to see, to explore informative content using the eLearning feature, to decide when to view the bought event, and to discuss about it on the social network. The focus of STAGE proposal is a proactive participation of older users, which helps defining a suitably designed service tailored for the users' attitude, and not settled down in a top-bottom approach.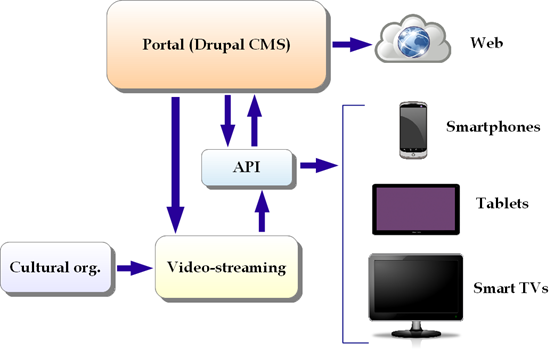 Objectives:
STAGE develops a co-designed and easy-to-use ICT platform that will allow older people to access a selection of cultural events provided via streaming by a EU network of entities and stakeholders. The events will include theater and opera performances, concerts and museum exhibits. Social involvement will be encouraged through the implementation of a social network for older users exchanging opinions and comments.
Information are provided by means of eLearning-like features, also working as a training, support aid and guidance material.
Expected results and impact:
Identification (definition) of user-requirements, through co-design of the platform. The collected data are the base for technical partners to develop the prototype, which will be tested by the end users and modified according to their feedback.
Then, a final version of the platform will be released, ready for the market. The commercialisation of STAGE platform will start with its introduction in the current circuit of events tickets sales, so everyone can purchase a ticket for a theater, a concert or an exhibition and see it from their own home.
Parnters:
Coordinator: CNR ITC
Duration: 30 months
Starting Date: 01 March 2016
Total budget: 1.887.824 €
Public contribution: 1.203.072 €
Contacts:
Dr. Luigi Biocca
Email: luigi.biocca@itabc.cnr.it
Phone: +39 0690672863
CNR ITC, Area RM1 Via Salaria km. 29,300 – 00015 Monterotondo Staz. (Roma), ITALY
http://www.stage-aal.eu/