Caring for the seniors with dementia in the middle of the COVID-19 pandemic: 4 things you need to know
by Amine Choukou, University of Manitoba 
Caregiving for someone with dementia: a whole new role amid COVID-19
Everyone has had to stop nonessential contact since COVID-19 struck. The health consequences of loneliness and social isolation are significant across the age spectrum and worsened by the lockdown. In particular, the effects may be worse in seniors with dementia who often require informal caregivers, namely family members. Family caregivers are responsible for maintaining a constant connection with the senior with dementia before the pandemic while maintaining a social, home and professional life. By imposing travel and social distancing restrictions, COVID-19 added a new layer of complexity to informal caregiving. There's no one immune. No one is spared! Dementia is most likely not to increase the risk of COVID-19. However, dementia-related behaviours and age-related cognitive decline could increase the risk of contracting COVID-19.
Bringing people closer together: it is not just a matter of technological prowess. It is a matter of working alongside communities rather than for them
Like most people worldwide, Canadians are faced with an unusual situation, particularly those living in rural and remote areas. The current crisis has revealed a lack of access to health care among people living in underserved communities, particularly those living with dementia. One can imagine that people with dementia have been hit hardest by the lockdown. Even the natural support that family members have given to them is becoming complex, even impossible in some cases. Technology has an imminent role to play in this respect. There are already many technologies, but COVID-19 'drives' innovation and helps technologies have a societal impact.
Our initiative aims to reduce social isolation and loneliness for seniors with mild to moderate dementia living in Manitoba. Telepresence robots will be placed in homes for seniors with mild to moderate dementia living in rural and remote locations in Manitoba to enable interaction with their respective family caregivers. The exchange will involve activities related to self-care, nutrition, intake of medicines and interactive games. The research team will evaluate caregivers' perceptions and the reactions of seniors with dementia following telepresence interactions.
This project was triggered by creating a working group between our research team at the University of Manitoba's College of Rehabilitation Sciences and community partners, namely Research Manitoba, the Alzheimer Society of Manitoba and the Manitoba Association of Senior Centres. Partners have referral lists and the power to connect community members from across Manitoba to the research team.
Why telepresence robot is a timely solution
We have explored several potential technologies to support social interaction amid COVID-19, and we think that telepresence robots will be the one that provides a prompt and effective solution. It will help seniors with dementia have more meaningful and engaged lives in their community and minimize the burden on family caregivers of persons living with dementia. Indeed, initiated by the family caregiver, telepresence robots provide two-way communication for the family caregiver and the person they are caring for, which is needed in the context of COVID-19 for two significant reasons. First, this solution enables video-based interaction when the caregiver cannot be in the senior with dementia's home. Second, telepresence frees up more time for the caregivers out-of-home, helping them maintain a career, family and social life.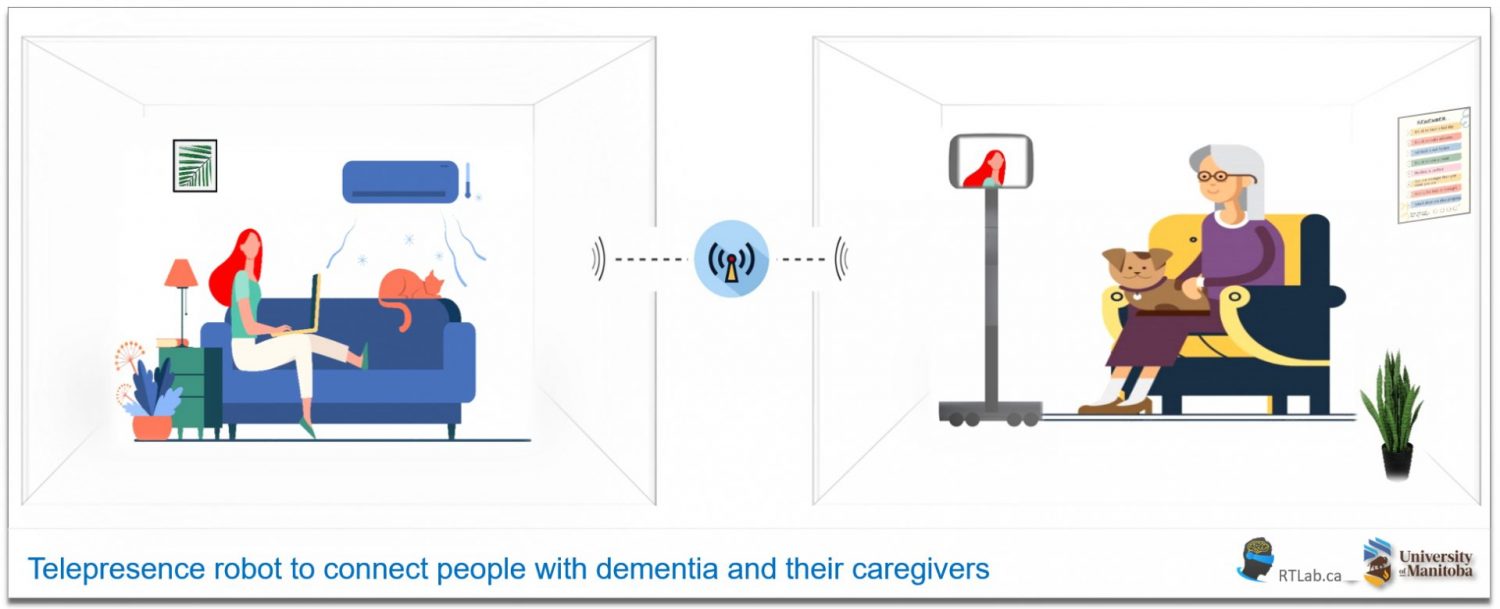 Impact and longevity
According to the Manitoba Alzheimer's Society, nearly 20,000 Manitobans have Alzheimer's disease or other dementia forms. By 2038, this could rise to over 34,000 people. This represents about 5% of the population of Manitoba. After this pilot project, a telepresence-enabled caregiving service model will be developed with the help of business experts to offer the best service possible at a reasonable cost.
Meet your guest blogger
I am Amine Choukou, assistant professor at the University of Manitoba's College of Rehabilitation Sciences and an adjunct professor in the Biomedical Engineering program. I will be writing more on this project and our research work in the coming months here on the AAL site. In the meantime, if you would like to interact, please feel free to reach out to me at amine.choukou@umantioba.ca.