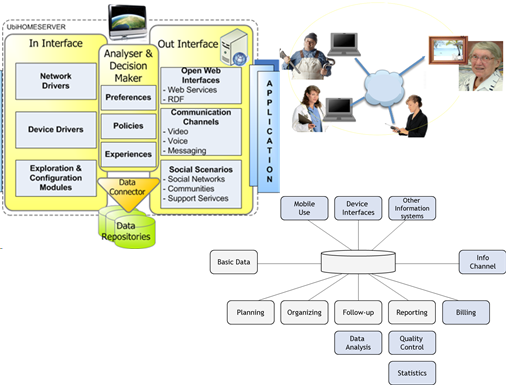 The Lily project focuses on wellbeing services for a self-serve supporting environment according to third-age people's needs from the viewpoint of ICT and taking account the whole human life cycle. The basic target group is 55+ aged people and the other target groups considered are health and social care giving personnel, local authorities, family members, relatives and friends, service providers, content suppliers, retailers and merchandisers. Lily solutions will be developed using industry-adopted and emerging technologies such as web 3.0 standards, including web services and semantic technologies, video technologies, touch-screens and a variety of end-user devices and interfaces. Co-operational models will be bases for creating value network's business models. Lily solutions will be developed on a base of three existing systems and piloted in two real living environments. For the new user interfaces the project will pilot sensory environments using printed electronics.
Objectives:
LILY is focusing on the improvement of the quality of life, autonomy, participation in social life, skills and employability through a transportable adapted home environment for a self serve of daily living activities. LILY aims at putting the technology at the service of three dimensions of users: the single individual older persons, persons in direct contact with their professional care and social workers as well as family members, together with the institutions and private organisations paying and enabling services that are the public sector, social security or insurance companies.
Expected results and impact:
LILY will prototype necessary products and services. Pre-industrial prototypes of the products, validated in 2 pilot sites, will be available at the end of the project. The expected benefits: for older persons, the increase of the quality of life, independent living and better decision taking ability. For the helpers: communication efficiency, increase cost-benefit standards. For the SMEs and service providers: advanced products demanded by users and a big market opportunity. As an outcome, a set of business models are created which are easy to replicate to new sites.
Parnters:
ORGANISATION
TYPE
COUNTRY
WEBSITE
University of Oulu
R&D
Finland
http://ratoy.oulu.fi/index.php?id=70

Oulu University of Applied Sciences
R&D
Finland
http://www.oamk.fi/raahe/english/

Technical University of Vienna
R&D
Austria
http://www.aat.tuwien.ac.at/index_en.html

Siperia Systems Oy
SME
Finland
http://finplatform.pbol.org/content/InfoDayMaterials/Pandora--Service.Management.Software.for.Elderly.Care.pdf
VISAGE Camera-Contact SA
SME
France
http://camera-contact.com/offre.html

The Districal Joint Municipal Authority
of Health Care in Raahe, Siikajoki,
Pyhäjoki and Vihanti

End-user organization
Finland
http://www.ras.fi/frontpage

The Chamber of Commerce and Industry of the Creuse area
End-user organization
France
http://www.cci-creuse.com/