AAL project Easierphone: facilitating lives for older adults
The use of smartphones and openness to tech innovation among older adults increased significantly in the last decade. However, the complexity of these mobile devices is an issue. To make smartphones more accessible and easier to support, our consortium is developing a modular launcher app for Android smartphones.
Today, the smartphone is an important gateway for social inclusion.  Smartphones are used for communication, entertainment, strengthening family ties, developing personal passions, physical activity or social meetings. Over the past 10 years, the percentage of people using the Internet, smartphones and all related applications and functions has increased dramatically. Smartphones are currently used by 61% of people over 65 and as many as 83% of people between 50 and 64[1]. However, it is worth mentioning that older persons – and not only these – often report problems with smartphones due to their complexity and overwhelming amount of apps, visual impairments and reduced skills in dealing with new technologies.
The answer: Simplify your phone!
Easierphone is an  app for Android devices. It replaces the default Android home screen and provides a simple, clean user-friendly interface. The user can edit what kind of apps and functionalities he or she would like to have on the home screen, so the most useful ones can be accessed easily. Easierphone can be adapted to the user's individual preferences – any existing app can be added and accessed through Easierphone.
Support by trusted people
The smartphone is a very personal device. Easierphone enables users who need help to invite a family member or friend to assist them remotely. Using the Easierphone assistant app, this helper can setup and support the device of the elder user with his own Smartphone.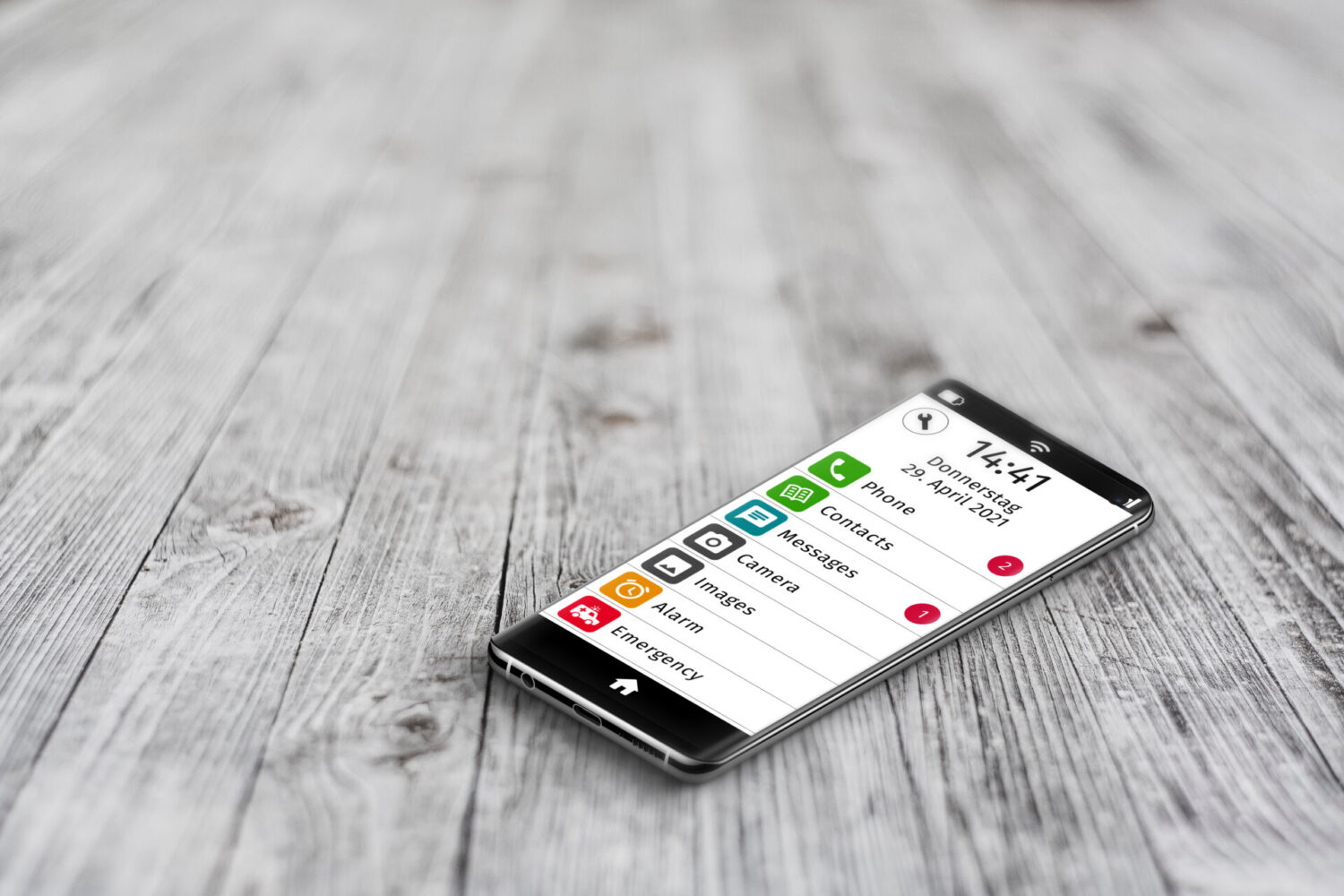 Innovative functionalities
The Easierphone app brings innovative solutions which support not only the operational aspects of smartphones' usage but also social activities and health issues. Regarding these areas, 5 functionalities are under development:
Activity Trends, following the level of smartphone usage, physical activities, and mobility data. The user can observer his own activities and see changes over time. An AI algorithm can analyze these usage patterns and make recommendations to senior users or their assistants.
One Touch Call, which allows a user to connect to a network of supporters by video call using just one, big button.
Walk Together, an idea for a movement stimulation game between 2 parties
Remote assistance, allowing an invited person to manage another user's device through the Easierphone assistant app.
Emergency button which alerts family members; after a 10 second countdown, a call is placed on the phone speaker to the first emergency contact, and SMS messages containing the location are sent to all emergency contacts.
Tries & errors
Easierphone's first Android release has been tested intensively with older adults in our 1st pilot project (September 2021-April 2021). Co-creation sessions have been held in Switzerland and the Netherlands to get feedback on the planned additional modules. We evaluated the user opinions and will update the application and the modules accordingly for our 2nd pilot program, starting later in 2022. The public beta release of the app is planned for early 2023, and the official launch of the app will be at the AAL project's completion in September 2023.
The consortium
The project is funded by the AAL programme and further developed by the consortium consisting of 6 partners (PAPPY, The University of Geneva, Almende, The Institute for Aging Research, Internos, and ASM Market Research and Analysis Center) from 3 European countries (Switzerland, The Netherlands, Poland).
Follow the project's news on easierphone.com and its social media channels: