Call 2020 project selection concluded
The AAL Programme's Call 2020 for proposals is closed for submissions with the highest number of applications since 2012! We thank all of the applicants and congratulate the 24 projects chosen out of 111 submissions!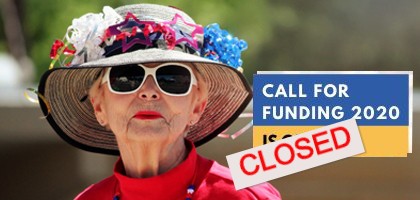 Overview of the Call 2020
Call 2020 focused on "Healthy Ageing with the Support of Digital Solutions" with an extended deadline to allow potential applicants participate in project proposal process while dealing with the COVID-19 crisis.
The Call received 111 proposals, out of which 84 were for Collaborative Projects and 27 for Small Collaborative Projects, the total projects budget being €170,699,971.68 and the total requested contribution being €110,869,782.10.
The preliminary analysis of the received proposals shows that a number of projects aim to tackle the challenges imposed by the COVID 19 crisis, by aiming to promote social interactions among the elderly and the carers but also through the development of mobile apps and telehealth or respiratory disorder prediction tools.
15 projects were collaborative projects, while 9 of them were small collaborative projects.  Among selected projects, the following areas are covered (list not exhaustive):
Facial paralysis Rehabilitation at home
Aroma light therapies with the use of ICT
Smart senior entrepreneurship
Others
In regards to the details of the applicants, the Netherlands is the country with the highest number of coordinators (20), followed by Austria (15) and Switzerland (14). Regarding the number of participants, the Netherlands is again is the country most represented in received proposals (142 participants) followed by Switzerland (100) and Austria (94).
Projects are planned to kick off their activities in the half of next year.