Project of the month: AXO-SUIT
Keeping you active and happy
This February the AAL Programme would like to highlight AXO-SUIT, a project funded under Call 6. The AXO-SUIT consortium has designed a modular device that help older adults to move and remain mobile and independent. Recently, AXO-SUIT became a start-up called BIOX that is aiming to make the products available to a wider public.
The AXO-SUIT integrated recent advances in assistive technology to study and design exoskeletons to meet the challenges in helping elderly adults. Therefore, they supplement comprehensively the strength of the elderly with effective and affordable exoskeletons, which allow older adults to remain still active and walk, that way improving enormously directly their quality of life.
How does it work?
The AXO-SUIT is a product that supplements the strength of an elderly adult in the form of feasible exoskeletons when undertaking daily activities. The basic product is comprised as upper-, lower- and full-body assistive exoskeletons. The upper-body exoskeleton, for example, supplements one's physical abilities of holding, grasping, pushing or pulling involved for performing light-duty jobs, while the lower body exoskeleton assists in maintaining mobility.
The exoskeletons have been designed, developed, and validated together basing on the trials with end-users thought different phases of the project to improve the product. This has helped in determining the user requirements and final testing to evaluate user satisfaction.
During the trials, the end-users positively assessed the product by trying it out, and there were different insights provided to improve the product's availability for both male and female participants, including suggestions of changing the look of the device and improve the strength of assistance necessary. In general, feedback on the assistance given by the elbow motor was positive, and even better for the soft glove.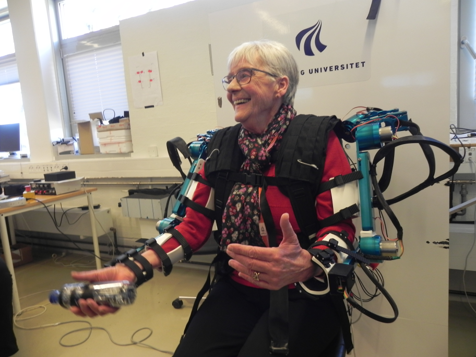 Photo: A trial participant trying exosekeleton
By using this exoskeleton, a person can move and carry out such activities that otherwise could be physically straining, such as carrying groceries, gardening or do any other housework. One can also use the exoskeletons when participating in local social activities while preserving their health and providing motivation to remain active and independent. Thus, it gives you a possibility to continue with routine tasks that are both necessary to retain independence, but also contributing to the ability to do things that make you happy.
The use of exoskeletons could also be extended to more aged persons, weak or disabled adults, or elder employees as their needs are similar thus showing a wide range of potential for its end-users.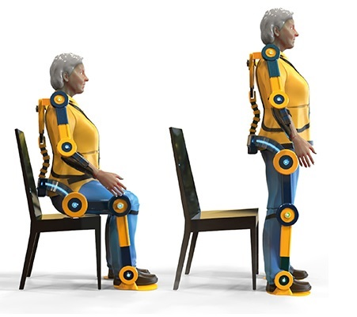 Photo: visualisation of AXO-SUIT
Creation of BIOX
In order to reach the market, a company called BIOX ApS was established in January 2019 in Denmark (www.bioxgroup.dk). BIOX ApS develops exoskeleton systems based on AXO-SUIT technology. With six employees, the company's first product is a novel sensor band to detect gesture and arm motion, with licensed AXO-SUIT technology transferred from Aalborg University. The users of technology include educational institutions and industries from Denmark and Germany, with first 10 units sold already.
Moreover, BIOX has successfully attracted 1 million Danish kroners (approx. 133K euros) with further investment of 20 million Danish kroners underway. It is expected by the end of this year, 2000 more units will be sold to the market.
We established a start-up Biox ApS this year to commercialize one technology on motion intention detection. And the company has built an alpha version of the sensing system, with hardware and software. Five systems 'BIOX Armband' are already sent to some Danish users for testing purposes. The company will build another 50 systems for more testing in real cases. We expect to move to mass production next year, if everything progresses as we planned, tells the project coordinator Shaoping Bai from the Aalborg University in Denmark.
We are excited to hear more about their activities in commercialisation of the product! Follow the latest news on BIOX below:

Are you a project participant and interested in commercializing your product? AAL2Business activities are designed just for that. Visit the site for more information.