"The pandemic has accelerated technology use among older adults" – Interview with Harish Malhi
Interview with the winner of the 2nd edition of AAL Smart Ageing Prize
Harish Malhi is the founder of Diaspo, an online platform that connects different generations through their passion for cooking. His core mission is to help older adults access the digital world and develop their technological knowledge by sharing their experience in local gastronomy.
Harish is a young entrepreneur with a big smile, one of those people who radiates charisma and self-confidence. After leaving his job at Google, Harish is now thinking of going beyond break-even with the help of the award from the AAL Programme´s Smart Ageing Prize.
"Our mission is to bring together one million older adults to share their knowledge and skills and work on something they are passionate about," he says. He wants his project to become the most authentic culture-based learning platform. As an entrepreneur himself, he helps older generations of entrepreneurs become more self-confident and share their knowledge and culture with other users.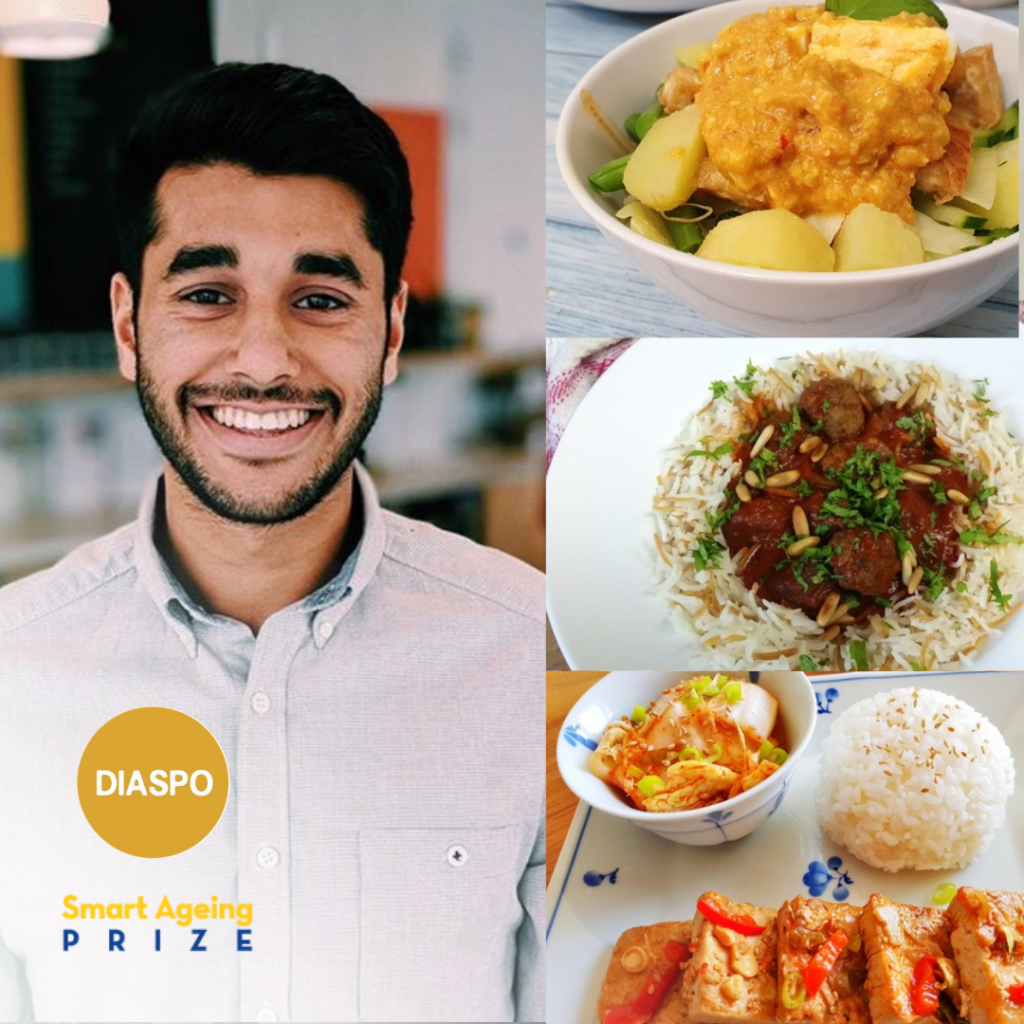 The first question is never easy, especially when putting ourselves in the shoes of an older person who is offered the possibility of teaching other unknown people the secrets of their kitchen.  What is the first obstacle you find when trying to persuade them to accept?
The first obstacle is their lack of confidence with technology, their ability and the lack of confidence to teach. I persuade them by explaining that's what Diaspo does, that's our way to support, giving them a hand to make sure that we are in every step of their way and to make sure that they are really comfortable. Along with that, we also have a warm group of teachers who are there to support them and started just like them.
How can the use of technology affect older people?
I think that when we introduce them to a new technology and help them, support them and increase their confidence, they can lose their barrier and try and experiment with other technologies which then make their lives easier.
For example, last year we introduced people to Zoom, and that's amazing because I had so many other positive effects. Now they have Zoom and they use it to teach, but they can also use Zoom to connect with other members of their family, for example.
So the beauty is that they get trained on one use case and then other possibilities are opened for them to increase their confidence and ability with technology.
What technological knowledge should the people who want to participate in Diapo have?
None. They don't need it. They just need to be passionate about cooking, culture and sharing their knowledge. 

When using technology, what obstacles might older people find that younger people don't?
What great designs say is that, if you design for old adults, then you design for everyone. The obstacles I think old adults have is that a lot of products are really poorly designed for them, and that's a shame. 

Nowadays there is a big digital gap between older and younger generations. If older people had more influence on the internet, ¿how would it affect the relationship between them and the young?
I actually don't think that there is a huge gap. What I think is that the pandemic has accelerated the older adults' use of technology. For example, I'm at home living with my grandad and I taught him how you use Netflix. 

That wouldn't happen before the pandemic. He also got an Iphone and he's using Whatsapp. He FaceTimes regularly, and he's 93 years old, so actually I think technology has a huge positive effect on intergenerational connections. I think the pandemic has definitely helped with that.
I think we are getting over that barrier and increasing their confidence with technology, but I also think that the industry and people designing need to do a better job on designing for older adults and making sure they are part of that co-creation.  
How do you think older people can drop their knowledge on the digital world? 
With us, with Diaspo, that's how I think. (laughs) I think there is always a use among of knowledge and skills that they can share. It's basically being in a place where they can share their knowledge and giving them the opportunity in platforms to do so, that's what we are really working hard to do. 

Should we change the way in which we use the internet with the intention of making it more accessible to older people or should older people learn to use the internet as we know it nowadays?
I think we could fix it by making sure that they are in the conversation. It is making sure that when we are co creating or building or thinking about customer experience, user experience or user design, older adults are in that conversation and tested with them, because, like I said before, when you design for older adults you design for everyone. 
Do you think an older adult can have as much impact on the internet as a young person does?
One hundred percent. And that's the belief we have and that's why we exist (Diaspo). There is a huge amount of knowledge and experience skills that are being passed down, which is what old adults have, so they should share it with other generations and between them.

What can motivate an older adult to start working in the digital world?
I think seeing the possibility. That's why we need these platforms and opportunities.
I think what motivates them is seeing that they have potential.
How would you motivate an elderly person to decide to join Diaspo?
If they are passionate about what they do, which is cooking, cultural exchange or teaching, then Diaspo is the place to do it because we give them the tools, the opportunities and the confidence to share their skills. We can give them a change to spend time doing something they love.

What do you want Diaspo to become for older adults?
I want Diaspo to be the place where older adults can come then they think about contributing. If they have a huge amount of knowledge, experience and skills and they want to work on something they truly enjoy and contribute to society and generate income doing something that they love. I want Diaspo to become the place of that. 
How do you believe Diaspo can expand into other areas besides cooking classes?
I think food is a great first step because it really connects cultures and generations across the world, but we could  add other verticals as languages or storytelling or music. That's something we have huge expectations to do. I think the potential is massive. 

Want to learn more about Diaspo and book an exciting cooking class? Click below!