Highlights of the AAL Forum 2019
The AAL Forum 2019 took place in the city of Aarhus in Denmark – a city world-renowned for having embraced technology to help older people live happy, healthy and fulfilling lives in their own homes for as long as possible.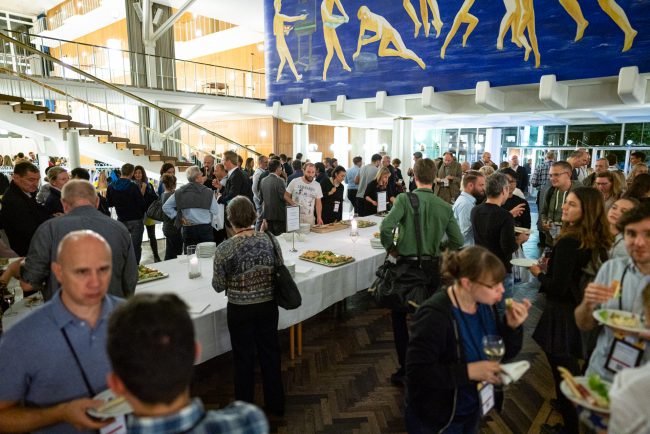 Photo: Networking  after the Forum Opening by Per Bille
Hosted by the Municipality of Aarhus and taking place at the impressive Aarhus Congress Centre, the event welcomed around 700 delegates to take part in exciting talks, interactive workshops, a buzzing exhibition displaying the latest technology and services, and many other opportunities to be immersed in the world of active and healthy ageing in Europe.
The event this year was made special by the fact that, for the first time, it was run in collaboration with the European Innovation Partnership on Active and Healthy Ageing (EIP on AHA). This collaboration was reflected in three joint workshops as well as plenary discussions involving both parties.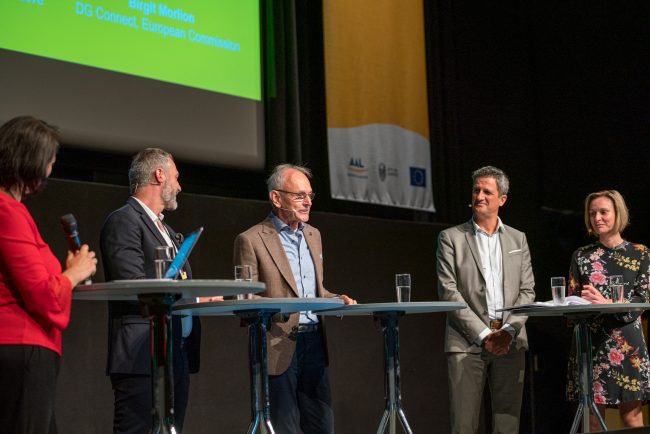 Photo: Second Plenary session, from the left Fernanda Frietas (moderator), Jose Angel Martinez Usero (EIP on AHA), Edvard Beem (JPI MYBL), Klaus Niederländer (AAL Programme), Birgit Morlion (DG Connect, European Commission)
Perhaps the most important aspect of this coming together, however, was that it allowed for ongoing discussion about a future partnership programme that will address the opportunities of Europe's ageing population beyond 2020 – a theme that was prevalent in talks throughout the forum.
Kicking off on Monday evening at Aarhus City Hall, the scene for the forum was set by keynote speaker Julie Arts from the Presencing Institute, who outlined the concept of an ecosystem approach for the future of AAL. "This approach … becomes relevant when you are leading profound social change in a complex system," she explained. "This will help inspire AAL to reorganise itself as it prepares to tackle the challenges we face without simply doing what we have always done."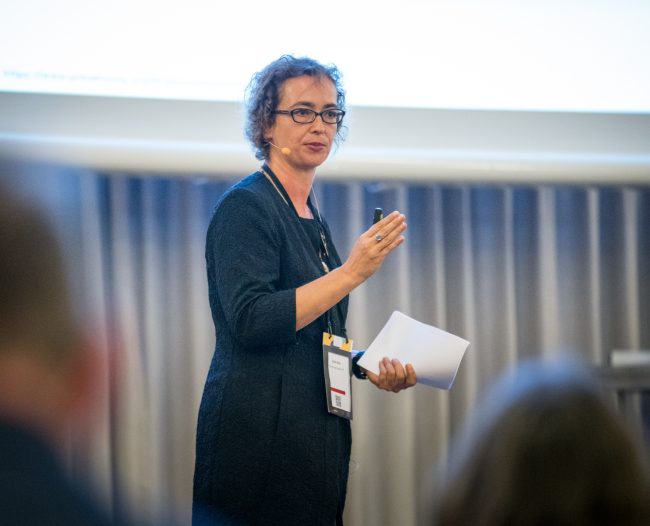 Photo: Julie Arts (Presencing Institute) by Per Bille
AAL president Peter Saraga also spoke at the opening ceremony, highlighting the importance of the collaboration with EIP on AHA at this pivotal time for Europe. "We are coming together at a crucial moment, when decisions on future partnership programmes at EU level are being taken," he said. "We are looking together at how we should address the challenges and seize the opportunities of Europe's ageing population in the future."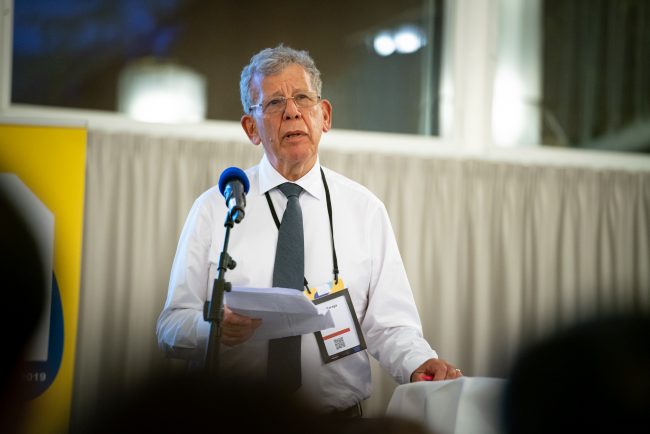 Photo: Peter Saraga (AAL president) by Per Bille
The first plenary session on Tuesday was a debate on the policy and philosophical implications of the ageing demographic revolution. Hosted by Fernanda Freitas, the discussion covered a variety of topics, with the panel members providing personal insights from their regions as well as taking questions from the audience.
Wednesday's plenary session took a similar form, but this time it was once again a collaboration between AAL and EIP on AHA, with representatives from both bodies as well as the EC and More Years, Better Lives (MYBL) discussing the possibility of a future partnership for dealing with demographic change in Europe. It was a topic that dominated much of the forum, and strong views were asserted from all sides.
The session ended on a positive note, with all sides agreeing that from the lessons learned over the past few years, the new partnership will undoubtedly be stronger and more effective in dealing with challenges and opportunities that an ageing population presents. As AAL's own Klaus Niederlander put it, "Europe has a responsibility to employ its skills, experience and knowledge to identify priorities for support services and activities for our older citizens".
The exhibition hall was once again the focal point of the forum for networking, meeting and seeing the best that Europe has to offer in the world of active ageing. Set over two floors, it consisted of a wealth of projects and other actors demonstrating their latest products, services and idea to the people there. For the first time ever, AAL provided a number of guided tours through the exhibition, with participants able to select their area of particular interest and meet like-minded people. Poster sessions also took place during the event, allowing people to showcase their work with a short presentation.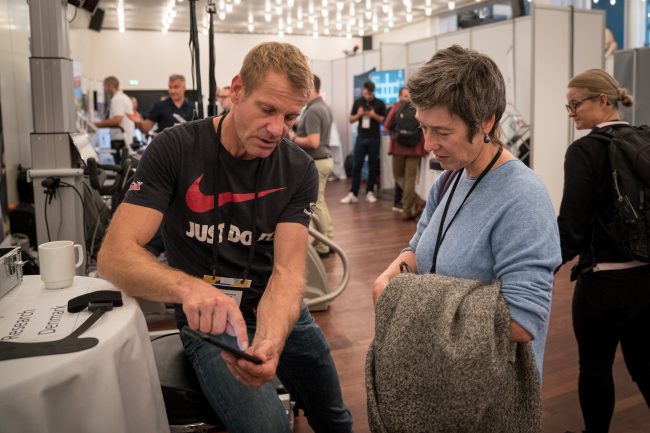 Photo: Forum exhibition on Tuesday by Per Bille
An award for the best exhibitor was given this year and, after careful consideration by the judges, was given to omiVista Mobii (read more here), a self-contained portable system that enables any room to be transformed into an interactive floor. The company has led the way in providing intergenerational projections in homes, hospitals and specialist centres since 2005. With a dedicated team of engineers, designers and health-care specialists they have created a bespoke range of products that provide meaningful activities for all ages and abilities to encourage movement, active participation and shared enjoyment.
Many of the forums in previous years have been preceded by a hackathon, which takes place in the days preceding the event and provides a space for creative minds to come up with new ideas for products and services that help older people live happier and more independent lives. This year, however, the format was shaken up, with the new Citizen Accelerator taking its place. Over two days, eight companies were given feedback and market validation from experts and citizens to give them better product-market fit. At the end, each company then had to pitch to a jury, with the three best then going on to pitch at the closing ceremony.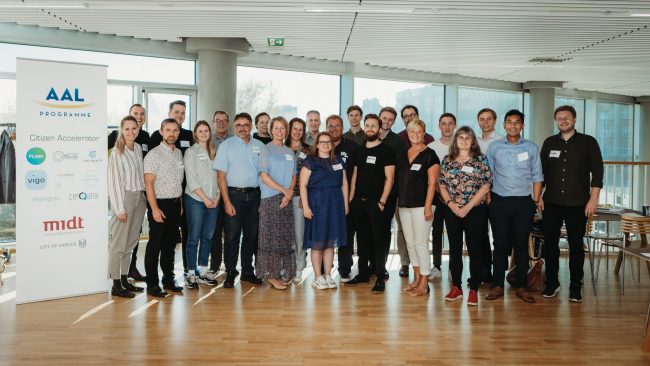 Photo: Citizen Accelerator participants
The first ever AAL Forum Citizen Accelerator Award was eventually given to Danish company Manigrip (read more here) for its multifunctional grip which allows those with limited hand mobility to hold small, narrow objects such as cutlery or paintbrushes while ensuring a good, stable grip.
As ever, the workshop sessions this year were all well received with a high level of interaction through a mixture of presentations, group discussions, panel debates and brainstorming breakouts. The dialogue and teachings were extremely rewarding and valuable lessons were learnt, with many discussions spilling out into coffee and lunch breaks. Highlights included a number of joint workshops co-hosted by AAL and EIP on AHA, as well as an "elevator pitch" session in which several projects had six minutes to sell their idea to a panel of investors.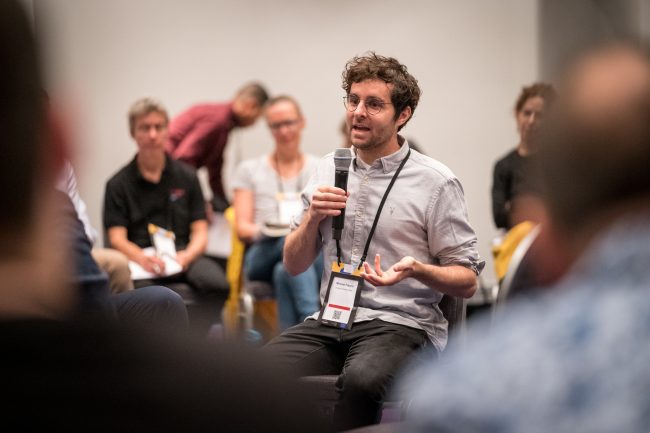 Photo: Workshop on Building an ecosystem approach for 'ageing well in a digital Europe' by Per Bille
With the forum finally drawing to an end on Wednesday evening at the closing ceremony, awards were dished out and speeches were delivered, with the overall feeling that the event had once again been a great success in pulling the community together and delivering ideas for now and the future. With next year's forum taking place in Nice, it is highly likely that we will be seeing many of you again next year!
See more highlights of what we experienced in Aarhus on our Flickr HERE.
Follow us on social media to keep up with the news about our next forum!